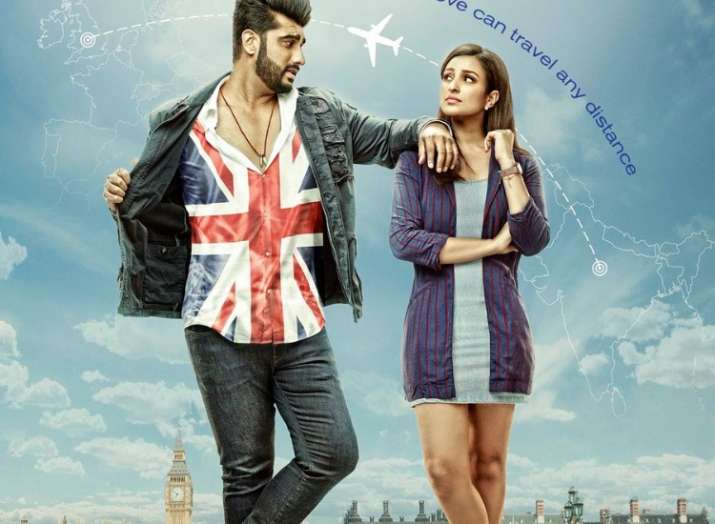 The moment first poster of the Arjun Kapoor and Parineeti Chopra starrer Namaste England surfaced on the internet, fans were in love with their sparkling chemistry and the look of it. Both the actors looked absolutely chic and the posters send out the feeling that the movie would be fun. But looks like, the poster might not end up in a fun zone for the makers of Namaste England as it cut out a portion of India on the map. On the eve of Independence day, a Twitter user pointed out that Namaste England poster cut out Aksai Chin from India's map featured in the poster.
Arjun and Parineeti took to social media to share the poster and it was quite evident that on the right side of the poster is an outline map of India that does not feature the Aksai Chin region in the state of Jammu and Kashmir. While people are loving the poster, this misrepresentation of the Indian map could well spell legal trouble for the film and its makers since the government of India has strict guidelines when it comes to mapping India's external borders. 
Looks like makers of Namaste England are planning for a China release and so cut off the Aksai Chin region from India map to not offend Chinese people. pic.twitter.com/DG3qlEd0Op

— Od (@odshek) August 14, 2018
As per the law misrepresentation of the Indian map is regarded as a violation of the National Map Policy that was introduced in 2005. Apart from this, the Criminal Law Amendment Act, 1961, criminalizes the act of misrepresentation of India's external boundaries that comes with a punishment of imprisonment for a term which may extend to three years, or with fine, or both. However, the makers of the film have not given any official statement or clarification regarding this issue.
Also, the complaint against the poster for this misrepresentation can be lodged only by the government of India. For the uninitiated, the Askai Chin region has been a disputed border between India and China since the 1962 war. Post the war both countries broke off diplomatic relations leaving the ceasefire line undefined.
Namaste England is the second part of Akshay Kumar and Katrina Kaif-starrer Namastey London. It stars Parineeti Chopra and Arjun Kapoor in the lead roles. Interestingly, Parineeti Chopra and Arjun Kapoor delivered their first hit together with Ishaqzaade. The film is directed and produced by Vipul Amrutlal Shah, who helmed Namstey London as well. Going by the posters, Namaste England is slated to release on 19th October, 2018.