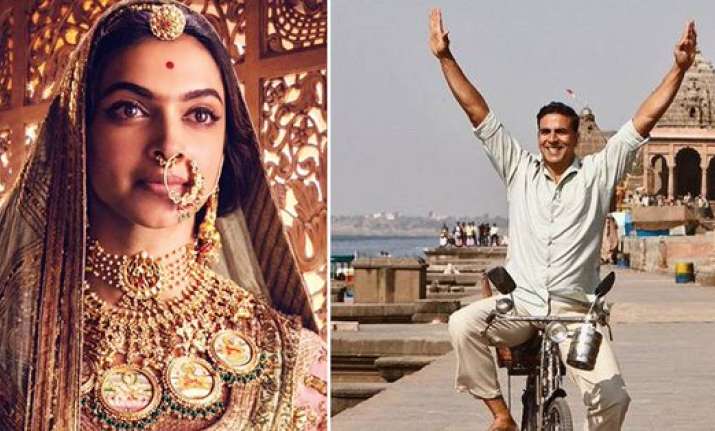 Indian celebrities do not only take January as a special month because of all the award shows it brings with it. Each year, the month also marks the launch of photographer Dabboo Ratnani's annual calendar, which is now known for its dramatic Bollywood portraits.
Like every year, the calendar brings together some of the biggest and most loved stars on a calendar to make all our upcoming months brighter. Shah Rukh Khan, Priyanka Chopra, the Bachchans – Aishwarya, Abhishek We all know that Sanjay Leela Bhansali's Padmaavat was due to lock horns with Akshay Kumar's Pad Man at the box office on January 25. But, now, the gigantic box-office clash has been averted as R Balki's PadMan, starring Akshay Kumar, Radhika Apte and Sonam Kapoor, will now hit screens on February 9. Pad Man will now have a box office clash with Neeraj Pandey's Aiyaary.
As per reports, Akshay Kumar announced the new release date at a press meet, which was also attended by Padmaavat director Sanjay Leela Bhansali.
At the press meet, Akshay Kumar said, "My film was supposed to come on January 25 when Padmaavat is also coming. Sanjay Leela Bhansali saab requested me today to postpone the release. He has gone through a lot. A lot of money has gone in the film. Bhansali's need was more than mine to release on this date. PadMan will now release on February 9."
Akshay further confirmed, "Both the films could have come together on this date. But the stakes of Padmaavat are higher than ours. It is essential for them to release the film."
Pad Man release postponed to February 9. Padmaavat will be a solo release on January 25. Noted film critic Komal Nahta took to Twitter and confirmed the news.
Breaking news: Pad Man release postponed to 9th February. Padmaavat will be solo release on 25th January

— Komal Nahta (@KomalNahta) January 19, 2018
Padmaavat director Sanjay Leela Bhansali also showed the gratitude to Akshay Kumar by posting a tweet:
#SanjayLeelaBhansali: You all know that #Padmaavat has gone through a lot. So I requested #Akshay if he could push the release date of the film. He didn't even take two minutes to change the release date of #PadMan. I will be grateful to him for the lifetime. @akshaykumar

— Bollywood Bubble (@bollybubble) January 19, 2018
Earlier, producer Twinkle Khanna had said that clash will affect both the films, but Pad Man is not backing down.
A trade source added, "Both the Pad Man and the Padmaavat makers feel it is bad for both films to clash at the box office. It would mean both would eat into each other's business."
Both Akshay Kumar and Sonam Kapoor, stars of R Balki's PadMan, had said that they were happy about the release of Sanjay Leela Bhansali's Padmaavat.
"It is not about competition, it is a very big day, a big week, so all the films can come, both the films can release on that day. Every film has the right to release whenever they want, and I am happy for them," Akshay had said during an interview with Indianexpress.com. While Sonam had expressed her happiness upon hearing the news of its release.
"There is a need for competition when it comes to films and high time that the film releases. Good cinema is good cinema. I don't believe in competition. Our film is very simple and sweet, and honestly, I am just happy that the film is releasing, more than anything else, and I hope the film does well," Sonam had said.