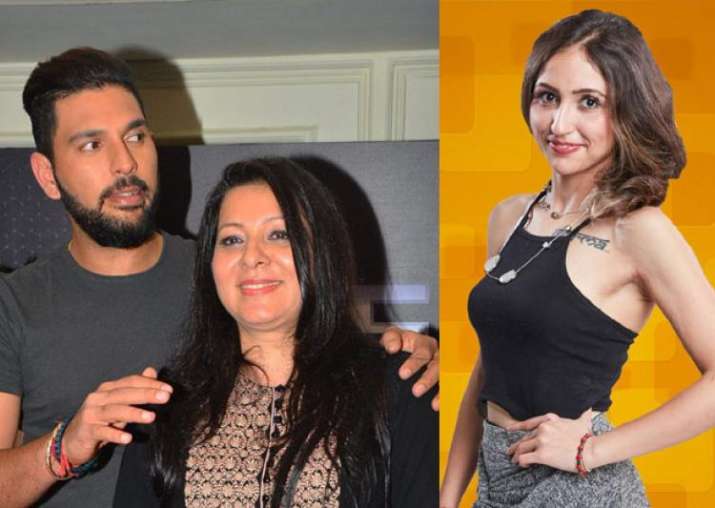 Ever since Akanksha Sharma entered the mouth touted reality show Bigg Boss 10, her personal life has been in the limelight.
The lady, just before entering the BB house, had revealed that she is cricketer Yuvraj Singh's former sister-in-law and that it was her mother-in-law that ruined her marriage.
This was not all. Post her eviction from the show on unday, Sharma came up with a blasting interview making shocking revelations about her in-laws about how she was forced into sex and was tortured mentally.
Akanksha even stated that her mother-in-law Shabnam is afraid of what she might tell the world about the family.
While everyone was speculating about the ill-behaviour of Yuvraj's family towards Akanksha, Shabnam released an official statement denying all the allegations imposed by her ex-bahu.
Mrs. Singh, who is determined to bring the matter to an end has seek the legal help against all the false accusations and blackmailing.
She has stated that since the matter is sub-judice, the truth will be out only after the court announces its verdict.
Shabnam further added that she cannot let someone tarnish the image of the family assiduously earned over a period of years and even referred to Akanksha as an 'ill-meaning person'.
"For the longest time, we as a family have ignored all her unnecessary assaults, giving her the benefit of being a woman, of being immature, and above all of being family. This benefit cannot be extended forever," she added.

Akanksha was married to Yuvraj's younger brother Zoravar for four months. However, the couple has been estranged for over two years now and fighting for divorce.
The lady has claimed that she looking forward for her divorce and doesn't want anything else from the Singh family.
"I just want my freedom from that house. I want to go ahead in my life," she added.


 (With IANS Inputs)