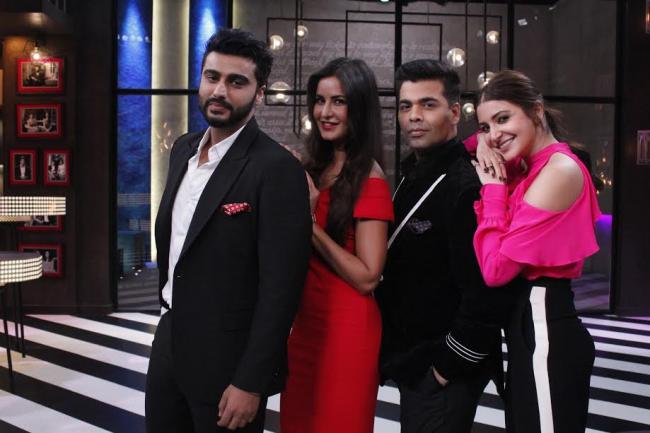 After the 'Dangal' cast, the next episode of the celebrity talk show 'Koffee with Karan' will feature 'Jab Tak Hai Jaan' co-stars Katrina Kaif and Anushka Sharma. And, for the first time, the two ladies will make the host Karan Johar speechless.
In the recently released sneak peek of the episode, Katrina was seen saying that her close buddies and actors Arjun Kapoor and Varun Dhawan have a club called; 'I hate Katrina' that left Anushka in splits. Though, the audience also wants to know the reason behind it.
It seems that Arjun is Karan's favourite guest. After making an impromptu appearance in Ranbir and Ranveer's hilarious episode, the actor once again shocked the ladies as he shared the couch with both of them. Well, when there is Katrina, how could Karan spare her from Salman's question?
The ace director asked her to give a name to the superstar if he was a dish, Katrina said, 'tricky' but Anusha heard it 'Chikki' that made Arjun rolled on the floor with laughter. At last, three actors were having a belly laugh when Karan was calling the two pretty ladies 'crazy women'.
Well, Katrina has been very famous on the show. First handsome hunks Ranveer and Ranbir performed on 'Chikni Chameli' and then Salman copied her dance moves from 'Sheila Ki Jawani'. With Katrina's ex-flames already graced the couches, now the filmmaker has some more bullets of questions to fire on the pretty lady. The coming episode may also shed light on Anushka's rumoured love innings with cricketer Virat Kohli.