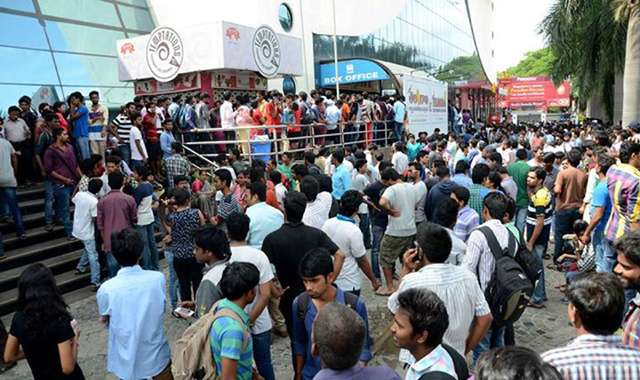 New Delhi: The coming Friday, July 22, is going to be a busy day at the box office. As many as 15 movies in 5 languages, are set to release on this Friday hinting towards nothing short of a ruckus at the box office.
While the biggest and most talked movie remain Rajinikanth's 'Kabali', Irrfan Khan's 'Madaari' and 'Star Trek Beyond' are other movies, which will battle for footfalls at the theatres.
When such clashes happens at the box office all the movies generally end up making losses, both in terms of revenue and footfalls.
It should not be forgotten that Salman Khan's 'Sultan' is continuing its dream run at the box office and is showing no signs of slowing down post first week. With this time it will be quite difficult for other movies to get a free slot in the cinemas.
While North India is being ruled by 'Sultan', South India is gearing up to see Rajinikanth in the role of a don in 'Kabali'. Tickets for this Rajni movie have already been sold out like hot cakes for the first three days.
Given Rajinikanths' star power and the way his fans wait with bated breaths to watch this movie's screening, it would not be untrue to point out that all the competitors of 'Kabali' will have a difficult time finding footfalls in theatres in South India.
The only Bollywood release which has created quite a buzz and is ready to take on 'Kabali' head on is Irrfan Khan's 'Madaari'. The lead actor of the movie Irrfan has retorted to several new techniques to keep the buzz alive so that it translates to footfalls at the cinemas. He met politcal leaders like Arvind Kejriwal and did a Twitter chat (something which he rarely does).
But again, 'Madaari' faces fierce competition from 'Sultan'. The last week release of Bollywood 'Great Grand Masti' failed miserably at the box office and one of the biggest reasons was 'Sultan'. Whatever little attention it managed to gather, it did not do the Riteish Deshmukh- Vivek Oberoi- Aftab Shivdasani movie any good.
The presence of Hollywood movie 'Star Trek Beyond' too can create problems for regional movies. With so many biggies in the picture, the regional movies will undoubtedly struggle to attract viewership.
About the division of screens to accommodate so many movies corporate head of Wave Cinemas said that the movies with buzz will easily find place. This leaves the lesser known and promoted movies at great disadvantage.
Let us see if despite all these hindrances any movie emerges the winner.