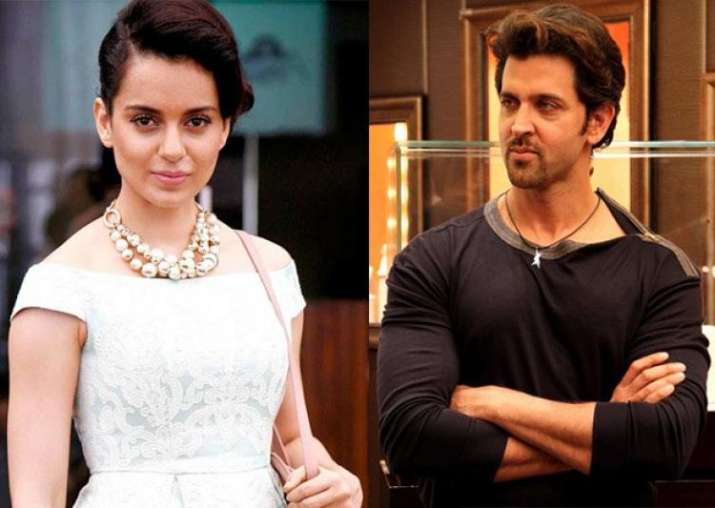 Actor Hrithik Roshan's spokesperson has refuted the reports of his ongoing legal battle with Kangana Ranaut coming to an end, stating that the war is still on between the two celebs.
"Media reports that the case is closed are totally false", said the actor's representative in an official statement released on Thursday. He further accused the media for connivance and stated that Kangana's lawyer has been disseminating false information.
The statement came in the wake of reports claiming that the legal tussle between Hrithik and Kangana has come to an end. It was reported yesterday that the Cyber Crime Cell of Mumbai Police has decided to shut the case regarding reported exchange of mails between the two celebs. The mails, as alleged by Ranaut, were a proof that she and Hrithik were in a relationship. However, the latter had refuted the reports claiming it was an imposter instead who was communicating with the actress. The police is said to have filed a NIL report for the case as well.
However, Hrithik's spokesperson has clarified that the case is not yet closed.
"The investigation in fact continues and Mr. Saxena (Joint Commissioner of Police, Crime) has informed Mr. Mahesh Jethmalani , Senior Counsel advising Mr. Roshan that " the case is not yet closed. Investigation is still going on'", the statement reads.
The statement further claimed that Hrithik never dated the 'Queen' actress, but it was Kangana who was after Duggu.
"It is categorically asserted that there is unimpeachable evidence to suggest that there was no relationship of any kind between Mr Roshan and Ms Ranaut and that Ms Ranaut persistently hounded Mr Roshan on e-mails with the intention to entice him into a relationship," claimed the statement.
On the other hand, Kangana's lawyer Rizwan Siddiquee had earlier called the Mumbai Police's decision to shut the case as a sign of victory saying that he is not surprised by the Cyber Cell submitting a NIL report in the case post their investigation.
"This means that they could not trace any imposter as was claimed by Hrithik Roshan. Kangana has always been maintaining that there was no imposter ever", Rizwan stated.
The fall out between Hrithik and Kangana broke after the diva referred to Duggu as her 'silly ex'. Infuriated by the incident, Hrithik had made a tweet, saying "there are more chances of me having had an affair with the Pope" than with the actress.
Kangana has alleged that two were dating each other since they shot for their 2013 release 'Krrish 3'. In fact, this rumoured affair even got hyped after Hrithik got divorce from Sussane in December 2013. However, junior Roshan has always denied the reports vehemently.
Soon both the actors were seen embroiling in mud-slinging and ended up sending legal notices to each other, which went ugly over the time.