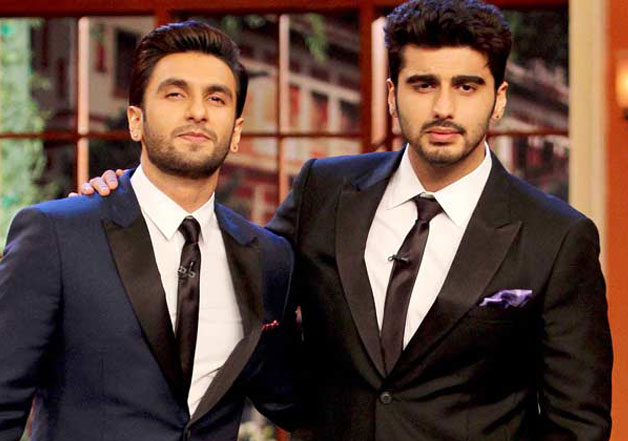 New Delhi: The 'bhai-bhai' bond between Bollywood hunk Arjun Kapoor and Ranveer Singh is not hidden from anyone. Whenever the two are together it sets the tempo for an amazing time coming for the audiences.
Recently, Arjun talked about his connection with livewire Ranveer, who will be turning 31 on July 6.
The 'Ishqzaade' actor said that he is glad that in a profession where people only mean business, they have managed to maintain the core values of friendship.
He further added that the two of them are "same, same, but different".
"I think in a profession where a lot of people wouldn't want us (Arjun and Ranveer) to be friends, we've managed retain the core values of being friends and I hope that continues," Arjun told IANS here.
"We have an amazing bond. It's a friendship that goes beyond the work that we do, which is amazing," he added.
Arjun also shared that they not just admire each other's work, but also have "mutual admiration for each other as people".
"We are diametrically opposite in our personalities, but we have a lot of similarities in our tastes... So the kind of cinema, hobbies or the conversations we've had, it just shows that two different people can also be very similar in their own way."
"So, we are same-same, but different, it's one of those with me and Ranveer," he added.
So, what is Arjun planning for the "Bajirao Mastani" star for his 31st birthday?
"I know he is not in the city and I know I am not in the city for his birthday. I'll call up and wish him... There's nothing specific that I have planned," said Arjun, who starred alongside Ranveer in the 2014 Ali Abbas Zafar's directorial "Gunday".
On the work front, Arjun will be lending his voice to the animated character Buck from the upcoming film "Ice Age: Collision Course", which is slated to release on July 15.
He is also shooting for Mohit Suri's "Half Girlfriend", based on the eponymous book authored by Chetan Bhagat.