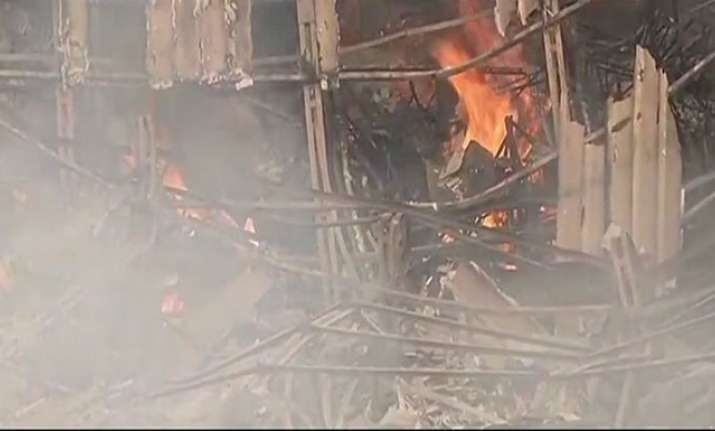 A film studio owned by veteran actor Rishi Kapoor, is set ablaze in Mumbai. RK studio situated in Mumbai's Chembur locality suffers massive fire on Saturday. 5 Fire brigade vehicles and firefighters were called to control the fire. Currently, the firefighting team is trying to control the flames. As of nows, no causality has been reported. According to latest reports, the fire started at the set of TV show 'Super Dancer' due to short circuit. Luckily, as it was Saturday, no crew member was present on the set. 
#Visuals Fire broke out at Mumbai's RK Studio. 6 fire tenders and 5 water tankers present at the spot. pic.twitter.com/eQc0J5qPiK

— ANI (@ANI) September 16, 2017
The flames are engulfing the building rapidly and have already destroyed hall no. 1 of the premises. The fire has not been controlled till now. It has been identified as a Level 2 fire. As a precautionary measure, people in the neighbourhood are asked to vacate the area to prevent causality. 
There were no immediate reports of casualties and the conflagration was confined to electrical wiring and installations on a 800-square feet ground floor area in the studio.
"The cause of the fire is yet to be ascertained," a source in the know of developments told IANS. 
The source added: "Luckily, no one has got injured as the set of the Sony Entertainment Television show was locked and no one was shooting.... We shot at the location last week, and the next shoot was scheduled for September 29 or 30." 
The second season of the show, which will feature actress Shilpa Shetty, ace choreographer Geeta Kapur and filmmaker Anurag Basu as judges, is slated to go on air on September 30. Its promos are already on air. The source added that the audition episodes have already been shot. 
"The fire mishap will not delay the show, and its premiere date will remain the same," the source said. 
R.K. Studio was established and named after popular yesteryear actor Raj Kapoor. It is headquartered at Chembur, Mumbai. Founded in 1948, the studio made its debut with movie Aag. It is said to be one of the oldest film studios in India. All the facilities and amenities were provided by Raj Kapoor in the studio, making it comparable to many international film studios.
There have been many studios in the industry which have faced fire incidents in the past.