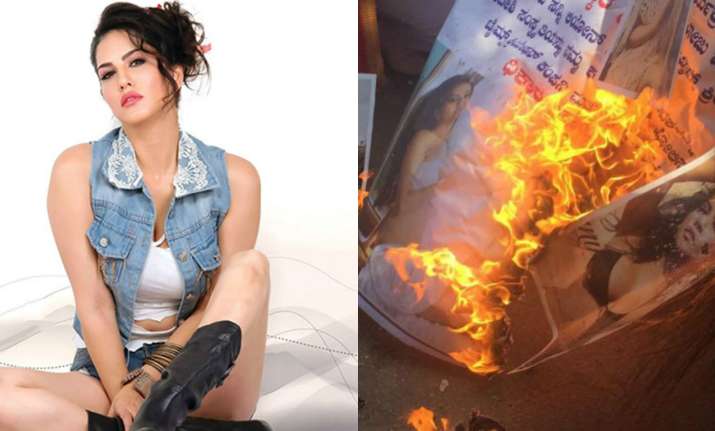 Bollywood actress Sunny Leone's upcoming New Year Bash in Bengaluru has not gone down well with pro-Kannada outfits who are protesting against Sunny, saying that she doesn't represent Kannada culture.
Karnataka Rakshana Vedike Yuve Sene protested outside Manyata Tech Park with their members wearing black ribbons and armed with brooms. They also burnt posters of the actress, saying they can even commit suicide if the event is not called off. ''We are against Sunny wearing short clothes. If she wears saree and takes part in the event, even we'll go watch her. Sunny doesn't have a good past. We shouldn't be encouraging such people. We will not hesitate to commit suicide on December 31,'' Harish, the state president of the outfit was quoted by India Today.
On the other hand, the organiser of the event also named Harish laid emphasis that it is a family show and her performance won't be an assault on the Kannada culture. ''This is a family-type programme with Sunny dancing on a Kannada song, and I, being a Kannadiga, have kept the programme's standard based on the Bengaluru culture itself. Even though Sunny got a lot of events that offered her more money, she rejected those and agreed to come to Bengaluru since Bengaluru and Hyderabad are her favourite places. I don't know what the protestors are expecting or what they think; this is a family show where the culture of the state won't be disturbed,'' said the oragniser.
Protesters said they will hold demonstrations against the event 'Sunny Night in Bengaluru NYE 2018' in 15 districts. The pro-Kannada organisation first demonstrated on December 7. On a related note, Sunny has worked in couple of Kannada movies and made a guest appearance in song of the film titled DK.