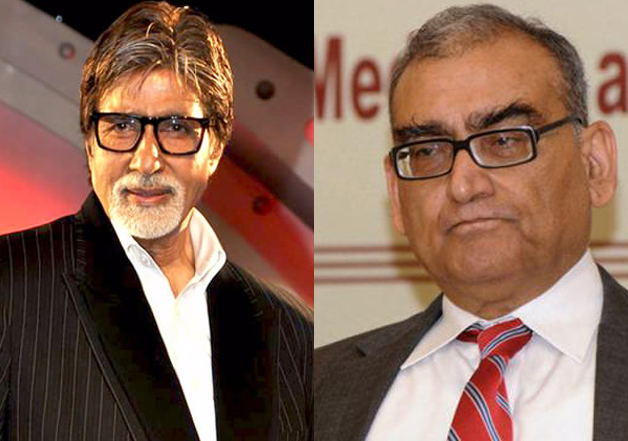 Responding to the comments of Markandey Katju, megastar Amitabh Bachchan has said that the former Supreme Court Judge is indeed right about 'nothing being in his head'. Mr. Katju had earlier remarked that the megastar is a 'man who has nothing in head'. Big B's statements have come as a response to his but the actor also added that there is no rivalry between the two. He also said that Mr. Katju was his senior in school so there is no bad blood at all.
In a Facebook post of September 17, Mr. Katju had sharply criticised Mr. Bachchan when he wrote that that his head is empty and so is that of media persons who praise him.
When Amitabh Bachchan was asked to reply to him, he said that since there is nothing in his head he can work on what's going on in it. 
"Justice Katju is right. I really don't have anything inside my head. We can be a part of what is going on and work towards it. But he is right. My head is khallas (finished)," Big B told IANS here.
Coming out clean that there is no old rivalry between him and Mr. Katju; Big B said that he will have to fold his hands when the judge arrives. After all, he is a judge.

"There is no rivalry between us. I will have to fold my hands and stand before him. He is a judge," said Big B, who was here to talk about the response to his latest release "Pink".
When Justice Katju was asked to elucidate his comment on Amitabh, he posted:
"Amitabh Bachchan's films, like those of Dev Anand, Shammi Kapoor, Rajesh Khanna, etc are like drugs, they take the people to a world of make believe, and they are therefore very useful to our rulers since they keep people pacified."




"Apart from being a good actor, what is there in Amitabh Bachchan? Has he any scientific ideas for solving the country's massive problems? There are none. From time to time he appears on some media channels giving sermons and homilies, and from time to time he is shown to be doing good deeds, but who can not do this with tons of money."
(With IANS Inputs)