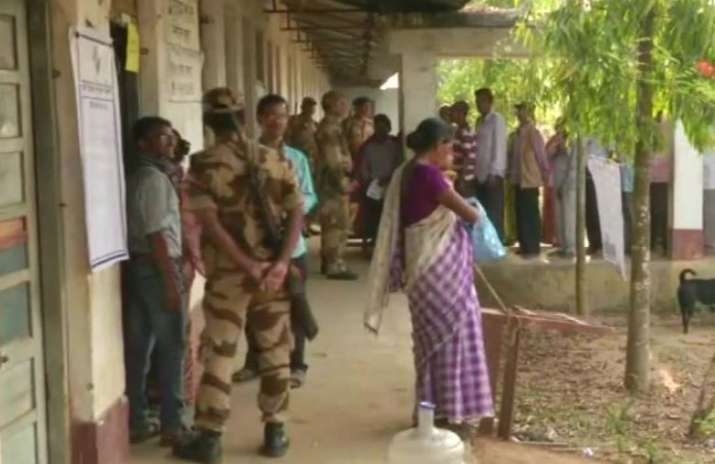 Voting is underway for the Charilam Assembly seat in Tripura Assembly. Polling to the Charilam seat was postponed following the death of CPI(M) candidate Ramendra Narayan Debbarma, a week before the February 18 elections in the state. 
The contest is chiefly among BJP canidate newly appointed Deputy Chief Minister Jishnu Debbarman, who is not a member of the 60-member Tripura Assembly, and Congress nominee Arjun Debbarma. CPI(M) had nominated fielded Palash Debbarma from the seat but later pulled him out, citing "post-poll violence" in the constituency. 
CPI(M) state secretary Bijan Dhar said the BJP, along with Indigenous People's Front of Tripura (IPFT), has resorted to "post-poll violence in the constituency".
#TripuraElection2018: People cast vote at a polling booth in Charilam. Polling in the Charilam assembly seat was deferred following the death of CPI(M) candidate Ramendra Narayan Debbarma due to cardiac arrest while campaigning on 11th February. pic.twitter.com/S0GYXk2Cyu

— ANI (@ANI) March 12, 2018
"The CPI(M) candidate was compelled to stay outside the constituency despite being a permanent resident of the place. He is not in a position to move in the constituency even with security cover. Any election held in such a situation would be nothing but a one-sided exercise," Dhar said. 
The CPI(M) had earlier requested the Election Commission to postpone the Charilam poll till "normalcy gets restored" in the area. "Since our appeal for postponement has not been considered, we have unanimously decided to withdraw from the election," Dhar said. 
Reacting to the CPI(M)'s decision, BJP state in-charge Sunil Deodhar said the Left party was making baseless allegations. 
Meanwhile, Deputy Chief Electoral Officer Debashish Modak said the last date for withdrawal of candidature from the Charilam election was February 26. "The electronic voting machines will have a symbol for them (CPI(M)) and the election process will continue as scheduled," he said. 
State BJP leader Biplab Kumar Deb has become the chief minister of the first BJP government in Tripura, ending the 25-year rule of the Left Front. Jishnu Deb Burman has been appointed as the deputy chief minister. The BJP-IPFT alliance had won the polls with a two-thirds majority in the Assembly. While the BJP had bagged 35 seats, the IPFT won eight out of the 59 seats that went to polls.