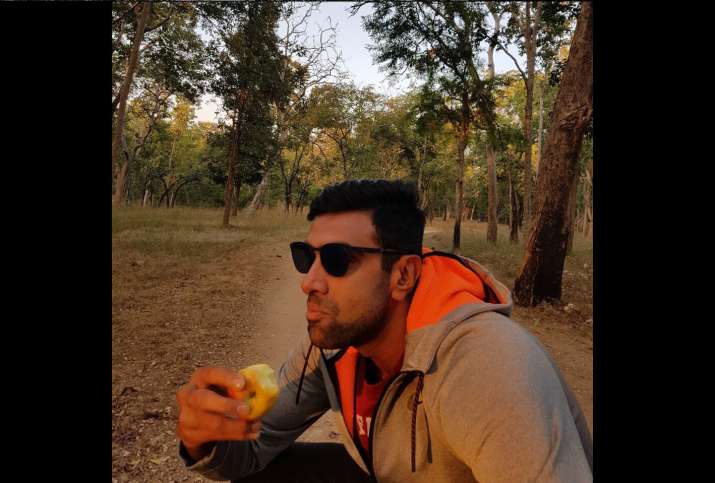 It's not very often that Indian cricketers get some time off the pitch. But when they do, they make sure that they post every little detail about it on social media. They grab eyeballs as well, of course. Ravichandran Ashwin made headlines on Tuesday for his latest profile picture on Twitter. He was enjoying the scenic beauty of Pench Tiger Reserve in Madhya Pradesh with teammate Vijay Shankar and fielding coach R Sridhar. He posted few pictures from her outing on Twitter. But the Twitterati are stuck on just one picture.
Great start to the day, morning safari @ the Pench Tiger Reserve. Nature and the wilderness at its stunning best. @vijayshankar260 @coach_rsridhar pic.twitter.com/qqqjwZ5cE4

— Ashwin Ravichandran (@ashwinravi99) November 28, 2017
In the picture, the off-spinner is eating an apple. He gave it a caption: #NewProfilePic.
#NewProfilePic pic.twitter.com/J4Mk1C9Nzn

— Ashwin Ravichandran (@ashwinravi99) November 29, 2017
His picture got an instant comment from KKR CEO Venky Mysore asking him whether its an apple or a Medu Vada. Ashwin quickly cleared his doubt telling that it was a not-so-crispy apple.
Some downtime at Pench seems terrific. Is that a healthy apple or a crisp medu vada?! Haha! https://t.co/AWmTk5pijW

— Venky Mysore (@VenkyMysore) November 29, 2017
Actually a not so crispy 🍎😂 https://t.co/Lz6P1QgG9a

— Ashwin Ravichandran (@ashwinravi99) November 29, 2017
In the second Test match against Sri Lanka in Nagpur, R Ashwin bagged 8 wickets. He became the fastest bowler in the world to take 300 wickets. Now both the teams are headed to Delhi, where the match will start on December 2.