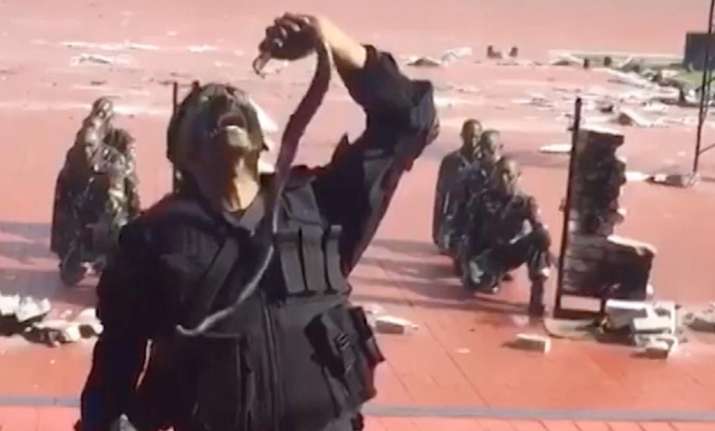 In a spectacular display, during his visit to Jakarta, Secretary of Defense James Mattis watched as Indonesian Special Forces drank blood from snakes, walked on fire and broke concrete blocks with their heads. 
The group of reporters travelling with Mattis on the three-day trip to Indonesia had been told he would view a routine military demonstration at Indonesia's armed forces headquarters.
The colourful demonstration of combat skills featured the soldiers performing a series of martial arts techniques, too, as speakers played Indonesian drums.
One Indonesian soldier who wore a hood over his face used a knife to cut a cucumber that was in his colleague's mouth. Another blindfolded man shot a balloon that was in between another soldier's legs. One of the shots missed, but Reuters reported no one appeared to have been injured.
In another demonstration, soldiers brought out live snakes, including a King Cobra. They dropped the snakes just feet from Mattis, but before the snakes could attack, the men cut off their heads and drank the animals' blood. One Indonesian bit into a live snake.
Watch the bizarre video here:
The event concluded to the sound of the "Mission Impossible" movie soundtrack as the soldiers held a hostage rescue operation.
The Indonesian military is hoping to grow its relationship with the Pentagon after human rights abuses in the 1990s prompted the U.S. to impose restrictions on their relationship.