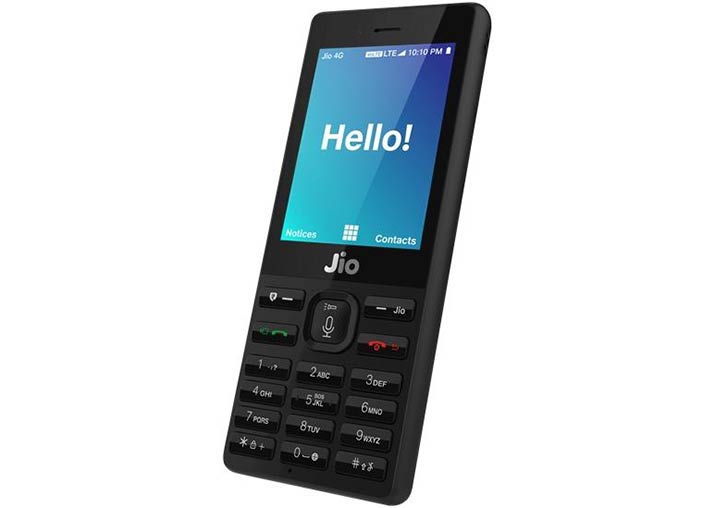 Reliance Jio Infocomm Ltd (RJIL) will from Sunday (September 24) start the delivery of about 6 million (60 lakh) JioPhones. The company said that deliveries of the low-cost 4G handsets will be completed within 15 days, starting from rural areas and small towns before urban centres.
"The Chairman (Mukesh Ambani) had said that the JioPhone will bridge digital divide between rural and urban India. Therefore, delivery of JioPhone will start this Sunday in rural areas and small towns," news agency PTI reported citing a channel partner of Reliance Jio.
Pre-booking of the JioPhone had started on August 24 against payment of a refundable deposit of Rs 500. The remainder Rs 1,000 has to be paid by the customer when the company starts delivering the handsets. The entire amount will be refunded against return of the phone after three years.
With 6 million units of sale, JioPhone is estimated to account for around 10 per cent of India's total mobile phone market in a quarter. Reliance Jio Chairman Mukesh Ambani had announced that voice calling for customers of JioPhone would always be free and they would get unlimited data for a month against a payment of Rs 153. JioPhone will come with pre-loaded Jio apps for messaging and entertainment. The phone can be connected with television sets for watching live TV using the Jio TV app.
First impressions here:
Design
The device is 12.1 mm tall, 4.8 mm wide and 1.3 mm thick. It will available in only a black plastic finish. It sports a 2.4 inch QVGA display (320×240 pixel resolution).
The right side of the device has a lanyard slot near the top edge.
JioPhone comes with a 4 GB internal storage memory and 512 MB RAM. There is a USB 2.0 slot and 3.5 mm audio socket on the bottom. There is a Nano-SIM slot and a microSD card slot that accepts cards of up to 128GB.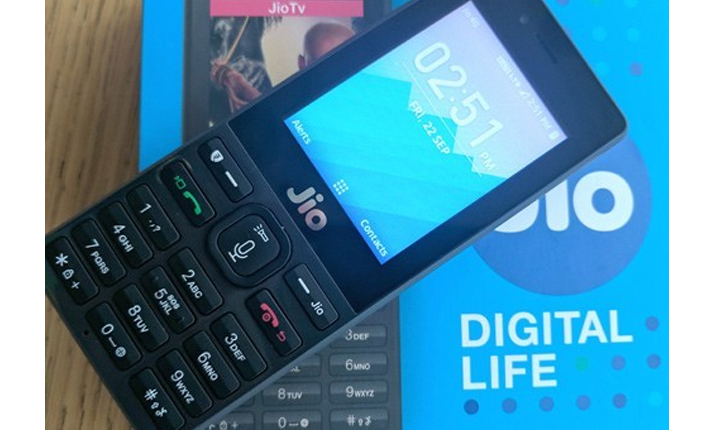 4-way navigation
The device has 4-way navigation making navigation simple. Each of the D-pad buttons also doubles as a shortcut to quickly launch specific applications. Long-pressing the D-pad's centre button launches the voice assistant feature. It can handle basic voice commands in both Hindi and English to let you call, open a message to contacts, launch apps.
The * key allows you to lock and unlock the keypad whereas the # button gives you options of switching between audio profiles.
Camera
At the back of the phone there is a 2-megapixel camera, a speaker grille. It also has a VGA camera in the front.
The sound is clear even when the phone is kept on the surface.
The back of the device also has the LYF branding.
It has a Micro-USB port for charging and comes with a charger that has a fixed USB cable. 
Battery
The back cover is removable. The handset is powered by removable 2000mAh battery.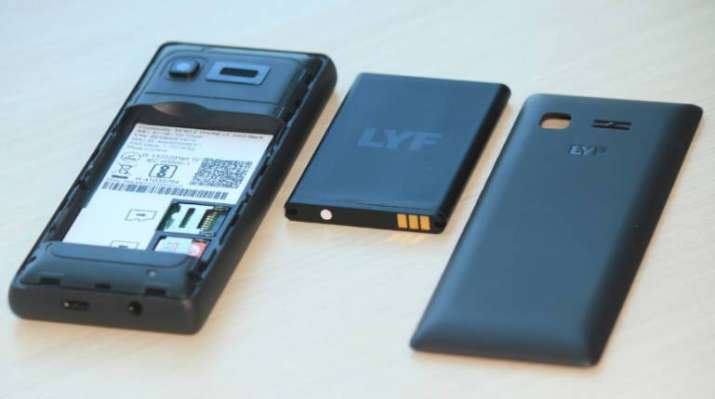 Other key features include Wi-Fi, Bluetooth, 4G VoLTE, FM Radio and GPS. The phone runs on KaiOS software with support for 22 regional languages.
There is, however, no hotspot feature on the JioPhone.
Rs 149 Jio prepaid plan
The phone comes with a SIM card, which gets activated by default at the time of collection from the store. Rs 149 Jio prepaid plan is automatically activated which offers unlimited free calling, 1 GB of 4GB data per day and 300 SMS messages. The plan is valid for 28 days.
The phone also allows you to select two people from contact list as emergency contacts.
Jio apps preinstalled
All Jio apps including JioMusic, JioTV, JioCinema and more are preinstalled. JioStore is the app store which lists eight Jio services including the preinstalled ones.
Facebook and YouTube are not available yet but are expected to arrive soon. However, one can use the inbuilt Web browser to access both Facebook and YouTube.