Follow us on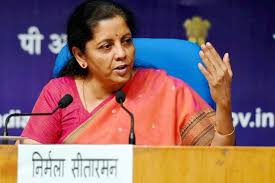 The Government on Friday proposed to levy TDS of 2 percent on cash withdrawal exceeding Rs 1 crore in a year from a bank account.
Presenting the Budget 2019-20, Finance Minister Nirmala Sitharaman said alternatives such as BHIM, UPI, digital payment modes, NEFT and RTGS could be used to promote a cashless economy.
"Business establishments with an annual turnover of Rs 50 crore would have to provide digital payment modes to customers at no extra charges or merchant discounts, on either customers or merchants," she added.
She said the Reserve Bank of India (RBI) and the government will cover the costs from savings accrued via a decrease in cash transaction operations.
WATCH VIDEO:
"Necessary amendments are being made in the Income Tax Act and the Payments and Settlement Systems Act, 2007 to give effect to these provisions," she added.
The Finance Minister also proposed that business establishments with an annual turnover of more than Rs 50 crore shall offer low-cost digital modes of payment to their customers and no charges or Merchant Discount Rate (MDR) shall be imposed on customers as well as merchants. 
ALSO READ |  Govt to launch 'Study in India' programme to attract foreign students
ALSO READ | Government will invest widely in agri infrastructure: Sitharaman
ALSO READ | No PAN card? No worries: Now you can use Aadhaar card for filing income tax