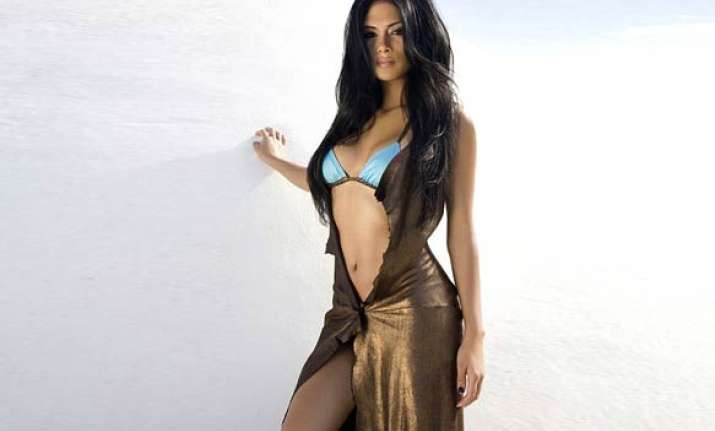 Nicole Scherzinger is used to wearing skimpy outfits but she has outdone herself with her latest sexy photoshoot, reports Daily Mail, London.
Nicole, racing ace Lewis Hamiltons's girlfriend, looked a parcel that had been covered in gold lamé then unwrapped to reveal an electric blue bikini.
The former guest X Factor judge - who's being tipped to join Simon Cowell on the panel of the U.S. version - posed to promote her second solo album.
The as yet untitled record is due out later this year, after the success of her first single from it, Poison, which went to Number Three in the UK charts.
She's also been hinting that she wants to tie the knot with her 25-year-old Formula One star boyfriend.
Talking to Now magazine, she said: 'I'm really traditional - I'd want to be married before we have kids and that's something we'll hopefully be doing soon.
'Lewis is always telling me that I'd be a really good mom and I know he'd be a great dad. I love kids and I'm feeling broody.'
The star has also said that she'd like to adopt - though she won't be going down the Angelina Jolie route.
She said: 'Yeah, I'd like to adopt. I would like to have a couple of kids in the future, no more than that. I won't be surrounded by children.'