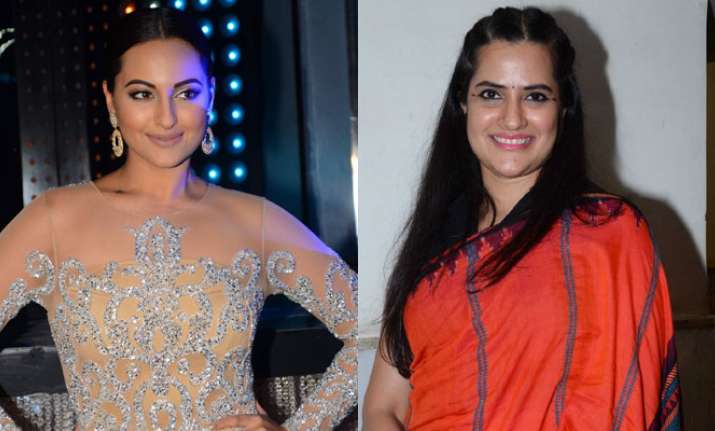 Sonakshi Sinha, who has been making huge headlines following the Justin Bieber controversy, has blocked singer Sona Mohapatra from her Twitter account.
The news of Sonakshi performing at Justin Bieber concert rubbed the music industry the wrong way. The Noor actress then had to face a lot of backlash from singers and musicians, including Armaan Mallik, with whom she had an ugly Twitter spat fight as well.
Also Read: Sonakshi Sinha Vs Armaan Malik: Noor actress hits back at singer, Twitter explodes
And today morning, Sonakshi blocked Ambarsariya fame singer Sona Mohapatra on her Twitter handle.
The singer posted a screenshot along with a sarcastic remark that read, "Hahahaha! Not that I'd ever followed this bundle of talent, grace & intelligence."
Hahahaha! Not that I'd ever followed this bundle of talent, grace & intelligence. pic.twitter.com/ncUJAvpIlI

— SONA (@sonamohapatra) April 25, 2017
What made the actress block the singer?
After Sonakshi clarified a day back that she isn't performing at the concert at all and added that she is an actor who loves music, who loves to perform and who loves to sing. And if anyone has a problem with that, in the wise words of baba Bieber himself... they can go "love" themselves, the singer took a dig at the actress.
Just chill chill... just chill 🎶 pic.twitter.com/grdJlVDRX2

— Maya/Sonakshi Sinha (@sonakshisinha) April 24, 2017
Sona Mohapatra slammed Sonakshi for not communicating the same to Amaal on Monday. In a series of tweets, Mohapatra criticised Sonakshi for insulting singers and musicians.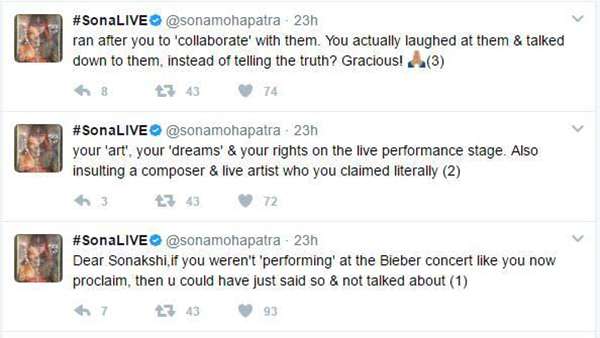 Shocking: Sonakshi Sinha blocks singer Sona Mohapatra after Justin Bieber row
After reading Sona Mohapatra's post, the Dabangg actress blocked the singer.