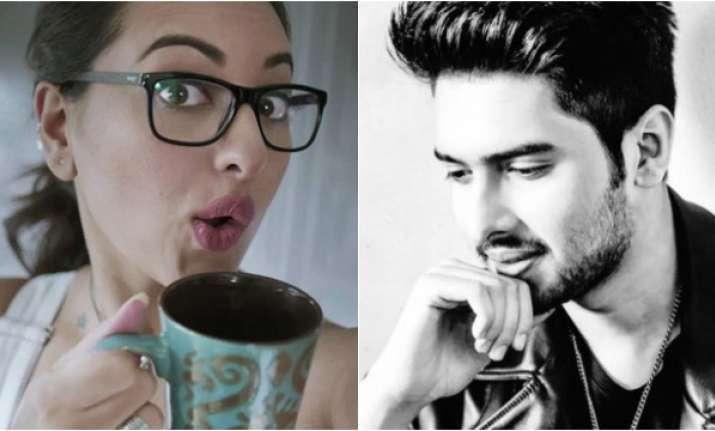 The Twitter fight between Sonakshi Sinha and Armaan Malik made huge headlines recently and today, the Noor actress gave a befitting reply to the singer and everybody who's been talking about her stint at the Justin Bieber concert.
Yesterday, Armaan got into a rough Twitter fight with Sonakshi while supporting Kailash Kher, who wasn't happy with the actress performing at Justin Bieber's Mumbai gig.
The singer went on to say that actors should leave the mic and stage for singers.
Also Read: Kailash Kher not very happy with Sonakshi Sinha performing at Bieber's India gig
Now, the 29-year-old actress has penned down her final words and has ended the entire debate from her end. 
Taking to Twitter, Sonakshi Sinha posted a long message with a caption that read, "Just chill chill… just chill."
Just chill chill... just chill 🎶 pic.twitter.com/grdJlVDRX2

— Sonakshi Sinha (@sonakshisinha) April 24, 2017
No sooner did the post hit the internet, members of the social media couldn't keep calm at all. They started flooding Twitter with heaps of replies. 
While several people supported Sonakshi on her "brave" post, there were some who trolled the actress.
Have a look at some interesting tweets
I totally agree with you. A true artist can not say to another to "stick to their own" medium. You handled it well. pic.twitter.com/h57MVWlGUb

— Bollywood Qing™ 👑 (@BollywoodQing) April 24, 2017
So anyone that needs to chill is u. It's not fair to make such respectable ppl like Armaan look bad. Ur attempts didn't work by a long shot.

— ❤ Armaan's Nutella ❤ (@Sunaina224ever) April 25, 2017
Whaaattaaaaa reply 😂😂
You just slaayyyy 😝😝😘😘😘
Those ppl wri8 now
Just 1 rply and KHAMOSSHHH..!! pic.twitter.com/55aoyErg2Z

— ✨ B R I J 🌻🌟 (@BhatnagarBrij) April 25, 2017
No one is stopping singers from becoming actors and no one has right to judge and control what people want to do with their life. Keep 🎤 👏🏻

— ⚡️ (@iiffiy) April 25, 2017