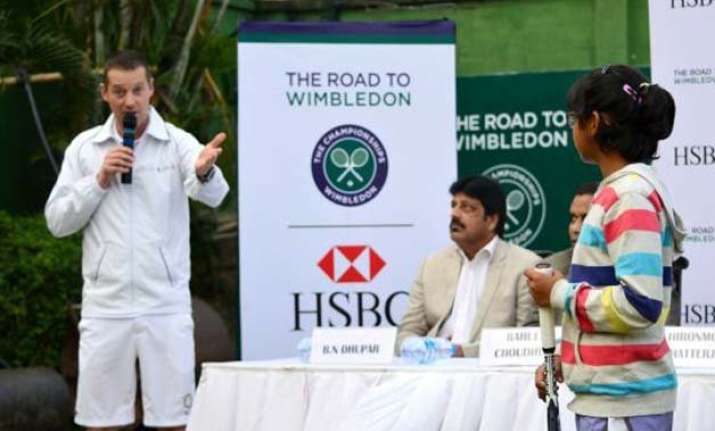 New Delhi: The All England Lawn Tennis Club (AELTC) will continue to run its Road to Wimbledon programme in association with Indian body AITA until at least 2017. 
The Road to Wimbledon initiative was only a UK tournament before it expanded to India in 2014. 
Like last year, the under-14 event will provide young Indian players to compete in the UK National Championship on the hallowed lawns of Wimbledon. 
The Delhi Masters ending here Saturday will culminate the Road to Wimbledon 2015 in India with top two boys and girls getting an opportunity to play at the famous grass courts of AELTC. The qualifying rounds took place in Kolkata, Chandigarh, Delhi and Mumbai. 
The Indian players made their presence at their AELTC debut in 2014 when 14-year-old Siddhant Banthia from Pune won the boys' singles title. 
"We are working twice as hard in England, so hopefully you (Indians) won't get the trophy this time," AELTC head coach Dan Bloxham said in a lighter vein today. 
Bloxham is interacting with budding players as well as coaches here and is accompanied by well known former players - Tim Henman and 2001 Wimbledon winner Goran Ivanisevic. 
On a more serious note, Bloxham is encouraged with what he has seen around India. 
"The kids are very much at par in India and UK. The Indians are good tennis players. It is just that you have to maintain that higher level all the way along. If kids do the hard work when they are 4, 5, 6 year old, then by the time they are 13-14 they are already world class," he added. 
Ivanisevic said: "The chance to play at Wimbledon is something young tennis players all over the world aspire to. 
"Thanks to the All England Club and HSBC this dream could become a reality for some of the young talent here in India. It is fantastic to see India's rich history of grass court tennis alive and well, and with more grass courts in India than any other country outside the UK, these talented young players have the chance to create their own grass court history," said the player-turned coach from Croatia.