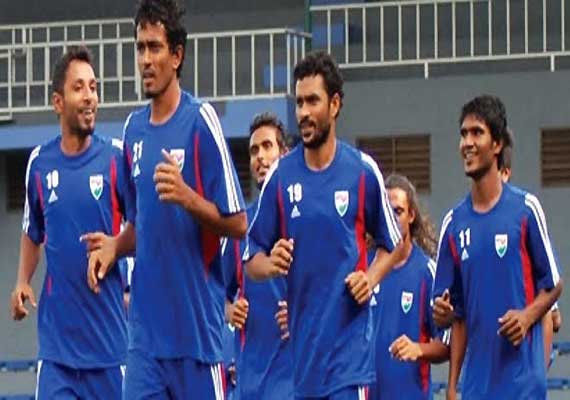 New Delhi, Aug 24: Syria were taken care of rather easily in the tournament opener, but a sterner test awaits the Indian football team as it gets ready to face Maldives in the Nehru Cup here tomorrow.
The last time the two teams met, in the semifinal of the SAFF Cup in December, India eked out a comfortable 3-1 win, but going by their dominating display over Nepal last night, Maldives seem to have made improvements in their game.  Even as the Jawaharlal Nehru stadium wore a deserted look, Maldives' show did not escape India's new coach, Wim Koevermans' attention.
The Dutchman along with his support staff was there at the stadium, analysing their next opponents from JLN's upper tier to get a "better view".
The first 46 minutes of the game were enough for Koevermans to form an opinion, especially about Maldives skipper Asfaq Ali, who was always on the prowl upfront.  
A downpour perhaps, after 33 minutes of play against Syria, did not allow the players to demonstrate the new set of skills they may have learnt from Koevermans in the last one month or so.
The India coach was impressed with the result, but Syria is history.
"The match against Syria is past at the moment. Maldives boast of some good players who can make a difference," Koevermans said.
Conceding that rain had influenced the game, Koevermans was happy that it went according to the script.  
"We are confident, the first match is always important, as it always counts. The players had a good game," the Dutchman said.
Adding to his confidence could be the fact that the squad is injury-free at the moment, though he expressed his displeasure at the yellow card shown to goalkeeper Subrata Paul.
Portugal-returned skipper Sunil Chhetri and Anthony Pereira's fired in a goal each in India's win over Syria on Wednesday.