Follow us on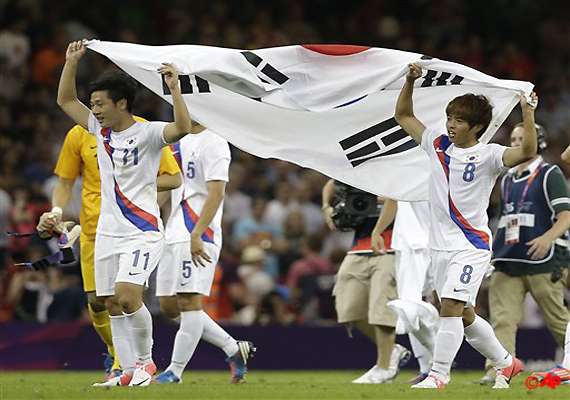 Cardiff, Wales, Aug 11:  South Korea's football players won Olympic bronze medals Friday, but many admitted they were also celebrating an even greater prize: the chance to skip military service.
Medal winners in South Korea are exempted from the 21-months of duty that that their fellow countrymen must do before they are 29 because their endeavors are seen as benefiting the country.
The 2-0 victory over Japan and military service exemption removes a major hurdle faced by many other top Korean footballers to pursuing a career in European leagues.
"I'm very happy to win the bronze medal and everybody here will now get a new chance by being exempted from military service, said striker Park Chu-young, who scored a stunning first goal. "That's what I'm really pleased about because that was our aim at the start of the tournament."
Kim Bok-yung, who is joining English League Championship team Cardiff next season, said being able to skip military service "makes me as happy as winning the bronze medal."
"This is one of the happiest moments of my life," he said. "It is a big problem for Korean players, but now I have avoided it. I will have no problem staying in Europe."
Beating Japan was a motivation in itself for the players. The two countries are Asia's fiercest football rivals and dueling contenders for the title of the region's best team. Japan beat South Korea on the way to victory at last year's Asia Cup.
The bronze was South Korea's first football medal at the games. Japan has also won just one medal -- also a bronze -- in 1968, the last time an Asian time got an Olympic award.
When the final whistle blew, the players formed a circle in the middle of the pitch and jumped around. Some took their shirts and traded them for Korean flags from members of the crowd. Coach Hong Myung-bo said he didn't dare go into the dressing room for 10 minutes after the match such was the noise that the team was making inside.
Japan, which looked tired in its semifinal defeat to Mexico just three days ago, started the match brighter in front of 60,000 people at Cardiff's Millennium Stadium. South Korea showed signs of frustration, with three players booked in the first 35 minutes before Park's goal in the 38th changed the course of the match.
The striker, who was a substitute in South Korea's 3-0 semifinal loss to Brazil and was almost not picked for the tournament, picked up a deflected clearance just inside his own half, ran past two retreating defenders and then shot low past goalkeeper Shuichi Gonda.
Park signed for Arsenal last year, but has not made the first team. British media reports this week said he will be leaving the North London club before the new season begins later this month. Asked about his future, he said "I don't really care about that at the moment. What I really need now is some rest and to enjoy this moment."
South Korea doubled its lead 10 minutes into the second half.
After striker Yuki Otsu came close for Japan, 'keeper Jung Sung-ryong quickly kicked a ball upfield into the path of Koo Ja-cheol, who controlled with one touch then scored with his second. Gonda kept his side in the match minutes later, pushing a powerful shot from Kim onto the right post.
Japan striker Yuki Otsu came close in the 67th, but failed to connect with a good pass into the box by substitute Kazuya Yamamura.
Japan made three substitutes to try and make a breakthrough, yet struggled to get into good positions against a well-drilled South Korean defense. Captain Maya Yoshida scored what appeared to be a goal on a header in the 86th minute, but it was disallowed for a foul by Otsu on the goalkeeper.
Coach Hong, overseeing his last game for the under-23 side, said avoiding military service was a motivating factor, but noted that the exemption for the players was not only an individual benefit but was "important for the future of the Korean football in general."