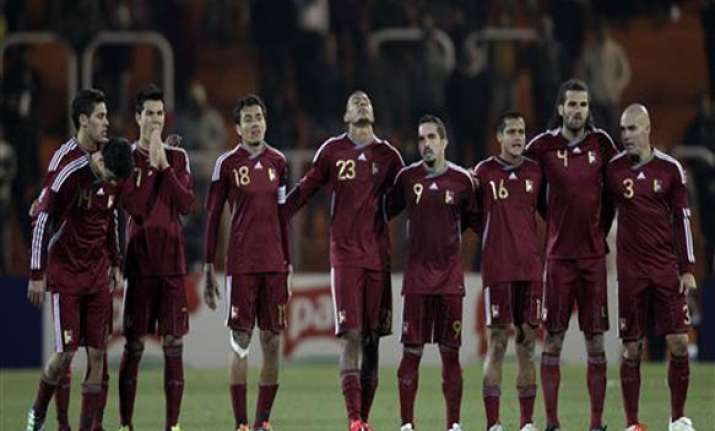 Mendoza, Argentina, July 21: Paraguay rode its luck through another penalty shootout to beat Venezuela on Wednesday and set up a Copa America final against Uruguay.

Paraguay, which has not won any of its five matches in the tournament, booked its place in the final following a goalless draw and a 5-3 victory on penalties.

The only miss in the shootout came when Justo Villar stopped Franklin Lucena's shot. Dario Veron held his nerved to net the final spot kick and set up Sunday's final against Uruguay, which beat Peru 2-0 in the other semifinal on Tuesday.

Venezuela, known more for its baseball, twice hit the post in extra time but came up just short of reaching its first ever final in the South American championship.

Paraguay advanced to its first Copa America final since 1979 despite its mediocre record. It eliminated Brazil in another penalty shootout in the quarterfinals.

"Today we played bad, we played good," said Paraguay's Nestor Ortigoza. "The important thing is we won."

After the shootout, a brawl between the teams started as Paraguay celebrated, prompting police to intervene. That came after a game in which Paraguay had its coach and assistant coach expelled from the sideline for arguing decisions.

Nestor Ortigoza, Lucas Barrios, Cristian Riveros and Osvaldo Martinez also netted for Paraguay in the shootout.

Giancarlo Maldonado, Jose Rey and Nicolas Fedor scored for Venezuela, but Lucena -- taking his team's third kick -- saw his low shot to the bottom left corner comfortably held by Villar.

"We came convinced we could advance," Venezuela coach Cesar Farias said. "We did everything humanly possible. Our team never lost its focus. ... We're not content because we worked to go farther."

After a lackluster 90 minutes, Venezuela twice hit the woodwork in extra time and had some good scoring opportunities.

Maldonado fired a cross shot that was deflected by Fedor onto the post in the 93rd minute. A couple of minutes later, Juan Arango's long-range free kick struck Villar's far post and the Paraguay defense just barely cleared the rebound. Fedor came close again in the 96th, but his shot from close range was saved by Villar.

Venezuela was able to pressure even more after Jonathan Santana was sent off in the 102nd minute for receiving a second yellow card.

Villar had to make another stop on a shot by Salomon Rondon from near the penalty spot, and Gabriel Chichero shot wide from the top of the area in the 114th.

Venezuela had made it through to the Copa America semifinals for the first time in its history by beating Chile 2-1 in the quarters.

With the 45,000-capacity Malvinas Argentinas stadium less than half-full on a cold night, those fans on hand saw a game of few scoring opportunities before Venezuela's extra time flourish.

The most significant chance in regulation time came in the 42nd, when Venezuela's Alejandro Moreno headed onto the crossbar. On the rebound, Rondon's close-range shot required Villar to make a difficult save.

Paraguay coach Gerardo Martino was ejected early in extra time for complaining and got into a verbal altercation with his Venezuelan counterpart, Cesar Farias, who signaled with his hands for the Paraguay coach to leave.

Paraguay was again without striker Roque Santa Cruz, who had already missed the quarterfinal against Brazil because of a muscle injury in his right leg. The powerful striker came on as a substitute in the 73rd, but only lasted seven minutes before having to go off.

Santa Cruz earlier in the tournament became Paraguay's all-time leading scorer with 25 goals, along with Jose Cardozo.

Wednesday's stalemate was a contrast to the group-stage clash between the teams, which was a thrilling 3-3 draw after Venezuela had trailed 3-1 in the 89th minute.AP

Lineups:

Venezuela: Renny Vega, Roberto Rosales, Oswaldo Vizcarrondo, Grenddy Perozo (Jose Manuel Rey, 45), Gabriel Cichero, Cesar Gonzalez (Giancarlo Maldonado, 84), Giacomo Di Giorgi, Fanklin Lucena, Juan Arango, Salomon Rondon, Alejandro Moreno (Miku Fedor, 72).

Paraguay: Justo Villar, Marcos Caceres, Paulo Da Silva, Dario Veron, Ivan Piris, Jonathan Santana, Cristian Riveros, Nestor Ortigoza, Edgar Barreto (Marcelo Estigarribia, 70), Lucas Barrios, Nelson Haedo Valdez (Roque Santa Cruz, 73), Osvaldo Martinez, 80).