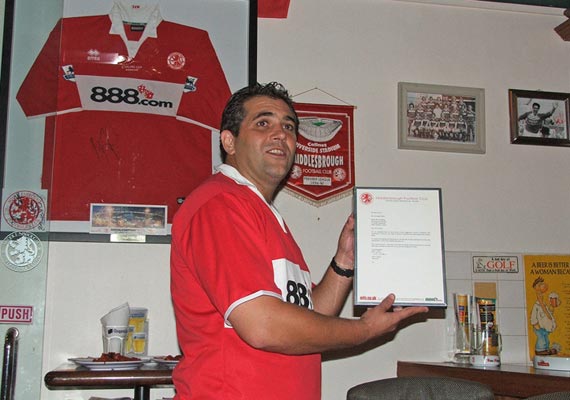 Mumbai, Jul 27: Noted football analyst and former English player Paul Masefield is backing Brazil to lift the coveted FIFA World Cup next year and said he would be amazed if the South American team failed to win it on home turf.
"(I am backing) Brazil - a hundred per cent. Home surface, home soil, crowd would be massively galvanised behind them. I will be absolutely amazed if Brazil did not win the World Cup next year. It would need a freak of nature (for them to lose)," Masefield, the new technical director of Mumbai-based Kooh Sports football development centre told PTI.
Brazil, who hosted the FIFA Confederations Cup last month, stunned reigning world champions Spain 3-0 in the final.
Masefield predicted Chelsea to win the English premiership title this year, following the return of former manager Jose Mourinho at its helm.
"I think they are going to win the league (EPL) this year. I think it is purely and simply down to the Mourinho factor. He has galvanised the fans, the players, every one at that football club is over the moon," he said.
He praised the Chelsea coach for getting the best out of his players and said Mourinho's recent statement that ageing mid-fielder Frank Lampard would be used sparingly, was the right one.
"What he is saying is right. You are 33-34 years old now and you can't do what you did when you were 25. I am going to use you in the right way. It is not to say that he is not going to play him every game but what he may do is play him in a slightly different role.
"That is where Mourinho can get the best out of players.  Mourinho does have a knack of bringing out the best out of the players. I think he will get the best out of the team," he said.
There have been reports about England international Wayne Rooney's imminent move from Manchester United to Chelsea and Arsenal trying to sign up Liverpool's Uruguayan Luis Suarez and Masefield said unhappy players cannot be retained.
"When it comes to transfers, you can't keep unhappy players at the football clubs. When you look at Manchester United, Wayne Rooney clearly is not happy.
"It being a World Cup year, if he is not playing or if he is playing a second fiddle to (Robin) Van Persie, he would like to be playing first team football to get on the plane to Brazil for the World Cup. If he is not, then he would want to move," said Masefield.
Renowned English club Manchester United recently appointed David Moyes as the manager, following the retirement of Sir Alex Ferguson who left behind a legacy of over 26 years at the club and Masefield said he had a big boot to fill in.
"It's a big task for David. He is a very strong character. I have played football with David. He is a passionate guy. He is a winner. You have to give him credit for saying I will take this mantle. He is a brave man to take it after what Sir Alex Ferguson achieved. I hope he does extremely well."
The former English footballer said Spanish giant Barcelona needs to sign up fresh legs, especially in defence.
"The problem with Barcelona is they have no fresh faces or new names. Neymar (Brazil) has come in and it is a  big signing but what have they got at the back? (Gerard) Pique on his day can be fantastic. (Carles) Puyol is struggling with injury, and for me that is where Barcelona's weakness is.
"They are brilliant in the forward line but they need to sign one or two players for defence, otherwise, they could struggle," he said.
He also felt that Germany could give a stiff fight to the other European teams.
"Germans have the right infrastructure. They are methodical in the way they go about their business, like you have the ability and the flair with the Italians and the Spanish, the determination with the Brits.
"The Germans are the ones who are tying it all together nicely. I think they are going to be a force to be reckoned with over the next few years," Masefield added.