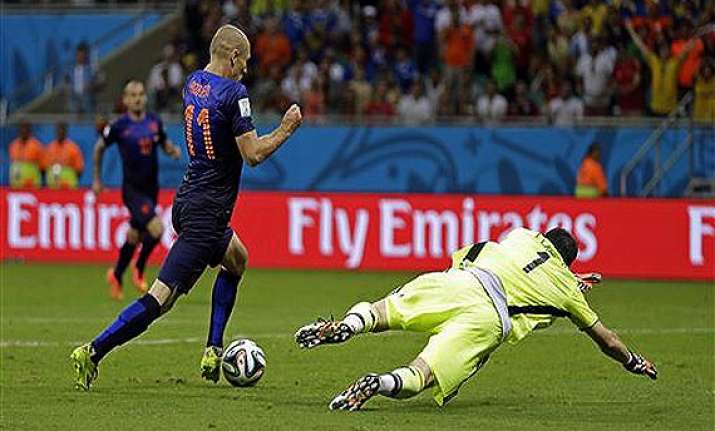 New Delhi:  The first of the high voltage encounter in the league stage of the 2014 FIFA World Cup has lived up to its billing and has provided the football fans one of the most exciting matches in world cup. The match was a perfect for all the fans of the Dutch football who completely routed the Spanish. It was a match which the Spanish fans will look to forget sooner than later.
The Spanish team has now the dubious record of conceding the most number of goals in a world cup match after being crowned as the world champions in the previous world cup. The last time a Spanish team conceded five goals were way back in 1963. lets take a look on the possible reason why the Spanish team received such a drubbing in the hands of the Dutch.

 The redemption of the old war horse, Arjen Robben
The old war horse of the Dutch team who was denied the chance of being the hero for his country four years ago took the next available chance to get his redemption. It was a perfect start for  Robben who just made it difficult for the Spanish players to control him.
It was exactly four years ago that Iker Casillas made a brilliant save that was shot by Robben but this time around Robben scored two sublime goals to his credit

The flying Van Persie
After trailing by 1 goal, something special was needed for the Dutch to pep them up and cometh the hour and cometh the man , it was Robin Van Persie  who score done of the most astonishing goals  of the world cup. Van persie like a flying bird shot the ball and Casillas had no chance of saving the ball from going into the net. After the second half started, there was only ever going to be one winner as wave after wave of Dutch attack penned the Spanish defence back.