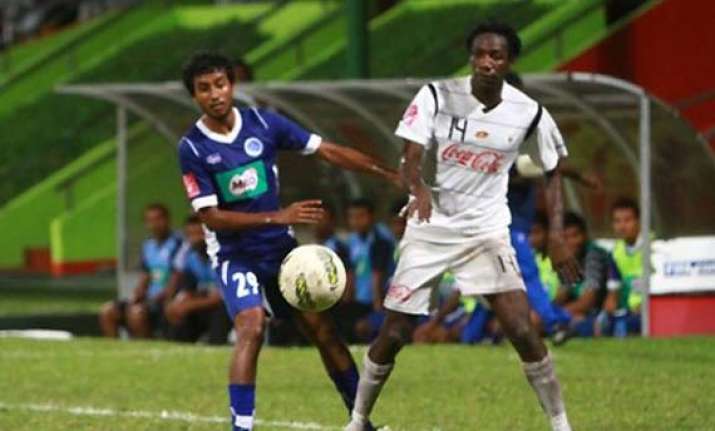 Kuwait City: East Bengal suffered a 2-4 loss against hosts Kuwait SC in the first-leg of the semi-final of the AFC Cup at the Kuwait Sports Club Stadium here Tuesday.
It was a dominant performance by the hosts while East Bengal suffered due to some poor defending. Issam Jemaa (17th, 33rd) scored a brace while Waleed Aly Huseen Joman (32nd) and Chadi Hammami (48th) scored goal apiece for the former winners.
East Bengal reduced the deficit through Uga Okpara's header in the 65h minute and Lalrindika Ralte's curling shot with just minutes from the final whistle.
Kuwait stepped up the attack right from the start and made the best use of the two flanks. It was only a matter of time that the East Bengal defence cracked.
Kuwait SC went ahead in the 17th minute as Jemaa cleverly beat the off-side trap. Jemaa latched onto a long pass from the centre and with no defenders to guard he slotted past East Bengal goalkeeper Gurpreet Singh Sandhu.
Joman doubled the lead in the 32nd minute in similar fashion as the East Bengal defence was made to look like a fool.A
Marcus Falopa boys looked lost as they kept repeating the same mistakes that helped Kuwait make it 3-0 in the 33rd minute.
The second half also started on a disastrous note for East Bengal courtesy goalkeeper Sandhu, who gifted a cross to Hammami Aby mistake and the striker capitalising on the blunder to make it 4-0.
Okpara gave the hapless looking East Bengal side something to cheer about as he headed in from a corner in the 65th minute. In the dying minutes of the game Ralte curled it in from the edge of the box to make sure that East Bengal are not left fighting for a lost cause in the return leg at home slated for Oct 22.