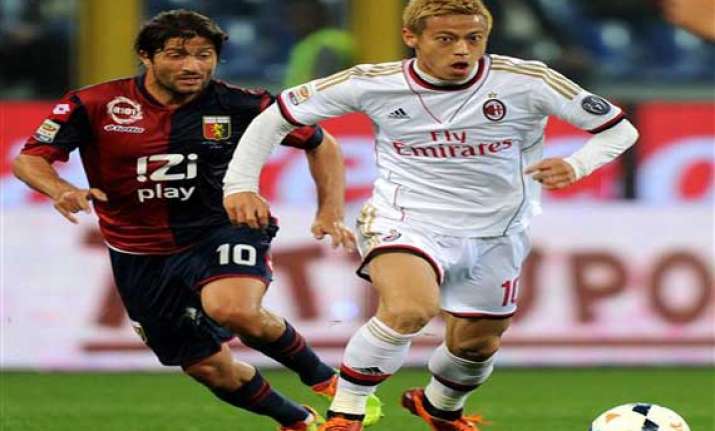 Rome: Gianluigi Buffon will face 17-year-old Simone Scuffet when Juventus visits Udinese on Monday in what is being billed as a matchup of the present and future Italy goalkeepers.
It's also a key match for Juventus in its bid for a third consecutive Serie A title.   
Juve holds an eight-point lead over Roma with six matches to go but can't afford to drop many points with a game at the second-place club in the penultimate round.   
Roma could put pressure on Juve with a home win over Atalanta on Saturday.   
Also this weekend, third-place Napoli hosts Lazio, Inter Milan goes to Sampdoria and AC Milan hosts Catania.   
Here are five things to know about the Italian league:
BUFFON'S SUCCESSOR?: Both made their Serie A debuts at 17, both stand about 1.90 meters (6-foot-3) tall and both weigh about 85 kilograms (187 pounds).   
And more similarities and comparisons between Buffon and Scuffet keep popping up as the younger `keeper continues to impress since taking over the starting job at Udinese in February, when Zeljko Brkic was injured.   
Scuffet maintained a clean sheet in his debut although he really began to make headlines when he defied Inter Milan at the San Siro with a series of difficult saves in a 0-0 draw two weeks ago.   
Buffon has been complimentary of Scuffet and it will be interesting to see whether Italy coach Cesare Prandelli includes the teenager as his third-choice keeper for the World Cup, with Paris Saint-Germain's Salvatore Sirigu in line for the No. 2 spot.
ROMA RAGE: Roma is enraged over the three-match ban handed to striker Mattia Destro for punching Cagliari defender Davide Astori.   
The incident was not sanctioned by the referee so TV replays were used to decide the ban.   
"It's true that he hit him but the referee saw it all," Roma coach Rudi Garcia said.   
If TV replays were not used to decide the ban, then a rule technicality could result in the sanction being reduced on appeal.   
Destro has been Roma's most in-form player, scoring 13 goals in 18 matches since starting his injury-delayed season in December -- including a hat trick vs. Cagliari.   
In all, Destro is slated to sit out four of Roma's six remaining matches, having also been suspended for accumulated cards.
EUROPA LEAGUE BATTLE: Eight clubs -- including Inter and AC Milan -- are fighting for Italy's two Europa League spots.   
Fiorentina (55 points) and Inter (50) currently occupy the qualifying spots in fourth and fifth place.   
The other challengers are: Parma (50), Lazio (48), Atalanta (46), Hellas Verona (46), Torino (45) and AC Milan (45).   
While Milan is the last of the bunch, the Rossoneri have won three matches in a row and earned 10 points in their last four games as they finally seem to have found their rhythm under new coach Clarence Seedorf.
EASIER TICKET SALES: With attendance declining and Serie A losing its international appeal, Italian football and security officials announced new plans this week to make ticket sales easier.   
Officials say that tickets will soon be available for purchase on the Internet and mobile devices, even seconds before matches kick off.   
There will be special promotions for children under 14 and adults over 60, plus families, and the option for season-ticket holders to invite friends to games.   
On the security front, the new rules call for smaller sections inside stadiums, at a maximum of 10,000 each, to easier identify hooligans.
HONDA'S GOAL: Keisuke Honda's first Serie A goal Monday was a big source of relief for AC Milan.   
The Japan winger scored the second goal in Milan's 2-1 win at Genoa to end his dry streak since joining Milan from CSKA Moscow in January.   
Honda's presence in Milan also provides the Rossoneri with much-needed sponsor cash and Asian interest -- especially since the club could miss out on millions by not qualifying for Europe next season.   
"I'm really happy he was able to break out like that," Seedorf said. "Now let's hope he continues like this."