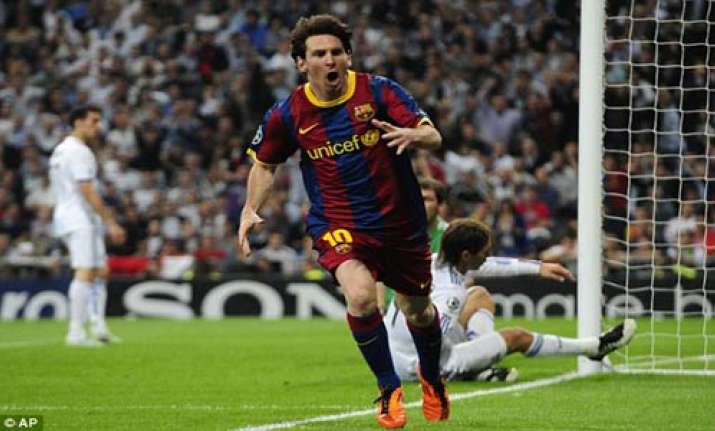 Madrid, Apr 28:  Lionel Messi showed flash of brilliance three minutes from time by scoring two goals in succession to help Barcelona beat Real Madrid on Wednesday night.

Earlier, it was a farce of a match. Real Madrid's Pepe was sent off for lunging over the ball at Daniel Alves, Jose Mourinho was ordered into the stands for persistently disputing the decision and Barcelona's reserve goalkeeper was dismissed for his part in a tunnel skirmish.

Messi scored both goals. The first, a deft finish at the near post. The second, a divine piece of skill, a jinking dribble from almost halfway capped with a precise finish.

It was a beautiful goal from a beautiful player but this was far from beautiful football.

At times it was downright ugly, undoubtedly influenced by the proximity to two previous games in this El Clasico series and an inflammatory verbal duel between Mourinho and Pep Guardiola on the eve of this Champions League semi-final.

As Barca's players cavorted in celebration after the final whistle, referee Wolfgang Stark left the pitch beneath two police riot shields and UEFA locked both teams inside the dressing rooms for a 'cooling off ' period. Expect the sanctions to fly - mainly in the direction of the Real manager.

Mourinho can expect to be banned from the touchline for next week's second leg. Sergio Ramos will also be missing in the Nou Camp next week, having collected a booking, as will Pepe.

This did not prevent Mourinho launching into another controversial monologue after the defeat, accusing UEFA of conspiring to help Barcelona. This time, Guardiola refused to engage in the squabble.

Guardiola's team did themselves little credit either, guilty of diving and play-acting, pressurising the referee. This was as unpalatable as any of Real's dirty tricks. Where they can take some plaudits is for their philosophy. Never did they stop trying to pass the ball and attack a team sent out to draw 0-0.

Early on, Ramos misjudged a header on halfway and pawed it down with his hand. Stark and his assistants missed the offence and the visitors were spitting mad, crowding the German referee, hands on heads in shock.

Barca passed and passed. Xavi caught a volley sweet from 25 yards but it was straight at Iker Casillas, then David Villa ducked in from the right and curled a low shot inches wide of the far post.

Cristiano Ronaldo became frustrated as the visitors zipped the ball around him. At one point, midway through the first half, he threw his hands down in anger and refused to chase any more. He stood and sulked, hands on hips, inside the centre circle.

Ronaldo glanced right, seeking encouragement from Mourinho.

None came. The Bernabeu crowd registered its disapproval and he stirred into life again but the former Manchester United winger was never at his electrifying best. There is unlikely to be a Wembley reunion with Sir Alex Ferguson, who was in Madrid to see the game.

Pepe forced a save of sorts from Victor Valdes, with a header from an Alonso free-kick. Real were tempted out a little more, with Marcelo becoming influential from left back, linking with Angel di Maria.

This would prove to be their best spell but it was soon eclipsed by more confrontation. Barcelona claimed Di Maria had dived when Stark booked Alves as half-time loomed.


Pedro was checked by Alvaro Arbeloa as he broke on a counterattack and the Barca striker rolled on the turf clutching his face in an at tempt to get the former Liverpool defender into trouble.

Guardiola had to be restrained as he tried to invade the pitch and opponents clashed. Barcelona players were miming use of the elbow at the referee but replays showed there was no elbow involved and Pedro had over-reacted. Sergio Busquets was soon at it, too, writhing in faux agony after being brushed off the ball as Marcelo rampaged forward.

Another skirmish erupted as the players and staff funnelled into the tunnel at half-time. Ramos, Seydou Keita and Valdes were all involved and Mourinho's sidekick Rui Faria was not far away but it was Jose Pinto, Barcelona's reserve keeper, who pushed a UEFA delegate and was dismissed during the interval.

Pinto has a reputation for misbehaviour on the bench. Earlier this season, he was punished for mimicking the referee's whistle and stopping opponents in their tracks.


Mourinho replaced Mesut Ozil with Emmanuel Adebayor at half-time. He had started with the same system he used in last week's Copa del Rey final win, with Ronaldo and Di Maria as wide strikers and Ozil drifting behind them.

They did not have enough possession to make it work, so on came Adebayor to hold the ball up. He had little effect either. Not much you can do without the ball.

Ramos was shown yellow in the second half when he checked Messi in full flight. Javier Mascherano was also booked for an innocuous trip which had Pepe flipping around.

The next card was red for Pepe for a studs-up challenge on Alves. The Bernabeu revolted and Mourinho applauded sarcastically. Had he left it at that, he would probably have escaped but he continued his dissent, sticking up his thumbs and shouting on to the pitch. The Special One was sent to the stands.

Amid the chaos, Messi pounced with his 51st and 52nd goals of the season. After the second, the little Argentine turned to soak the applause from the small section of Barcelona fans wedged into a top corner of the Bernabeu. Various objects rained down on him from the tiers of white.

It was that kind of night.