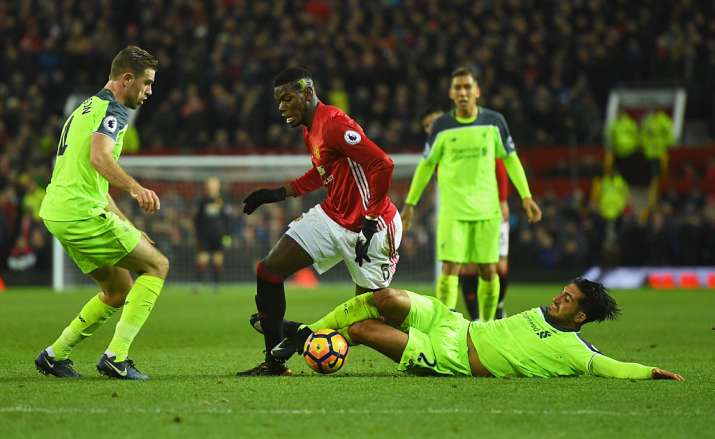 After a long and exhausting International break, the top European leagues are back in action and to kick-off the weekend, it's the oldest rivalry in the history books, Manchester United vs Liverpool. Exploiting a kind early season schedule, Manchester United has shown attacking flair under Jose Mourinho by scoring four goals in six of its 11 games.Among its next four games in the English Premier League, United faces Liverpool, Tottenham and Chelsea sides which will be likely contenders for the title and Champions League qualification.
A visit to fierce rival Liverpool is first up on Saturday, meaning a return to the scene of probably United's most negative and defensive performance last season. It was a classic, containing game plan by Mourinho and it made for an underwhelming 0-0 at Anfield, with United having only 35 percent possession — its lowest total in a single game since the league official stats supplier Opta started in 2003.
Some labelled it a betrayal of United's attacking heritage, especially on the back of three consecutive offseasons of heavy spending. Others said it was an entirely sensible ploy given that Liverpool had English soccer's most prolific attack at the time.
Mourinho couldn't really care less, relishing the fact his side stifled what he called, somewhat tongue in cheek, "the last wonder of the world in attacking football."
In away games against the Premier League top five (Chelsea, Tottenham, Manchester City, Liverpool, Arsenal) last season, United collected two points and scored just once.
In his second season at United and having stamped more of his authority on the team, Mourinho has many wondering whether he'll take a more positive outlook into games against his big rivals. That's why Saturday's derby widely regarded as the most illustrious game on the English soccer calendar has another level of intrigue.
"Do I like to go to Anfield? Yes, I love it. Do I like to play against Liverpool? Yes," said Mourinho, who has won 11 of his 25 games against Liverpool as a manager. "I like amazing stadiums, the best opponents, but the preparation is not different. It's just a match."
Certainly, there is scope for United to have success if it did attack more. Only two teams in the league have conceded more than the 12 goals given up by Liverpool, while United is the second-highest scoring team with 21 from seven league games just one behind first-place Manchester City.
City and United have 19 points and are five clear of third-placed Tottenham.
Injuries might have an effect on the potential flow of the game. Liverpool has lost forward Sadio Mane to a hamstring injury sustained over the international break and will be without its most sprightly attacking player for up to six weeks. The Reds struggled in Mane's absence last season.
Meanwhile, Marouane Fellaini joined fellow midfielder Paul Pogba in United's treatment room after he injured his knee on Belgium duty last week. It will likely mean Ander Herrera coming into partner Nemanja Matic in what should be a steely defensive block in central midfield.
Since beating Arsenal 4-0 at the end of August, Liverpool has won one of seven games in all competitions.
(WIth AP Inputs).