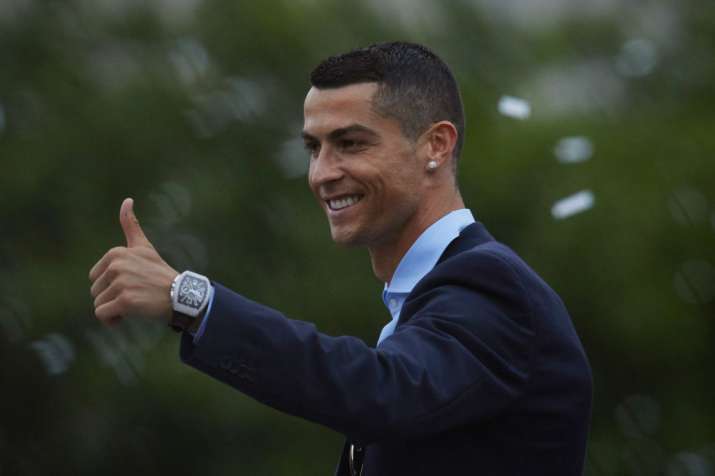 Portugal and Real Madrid superstar Cristiano Ronaldo has reportedly agreed to accept a 16.4 million Pound fine and suspended jail term to settle tax evasion. It has been building as the five-time Ballon d'Or winner was last year accused of defrauding tax authorities of 12.9 Million Pounds, the charges which he denies.
It is reported that Ronaldo had offered to pay 12.9 million Pounds in June 2017, however, the government rejected the offer.
However, Ronaldo is unlikely to serve any jail time under the deal as, under the Spanish law, a two-year sentence for a first offence can be served on probation with no requirement of custody.
Ronaldo was accused of trying to hide money which was linked to his image rights which were made between 2011 and 2014.
Spanish newspaper El Mundo reported on Friday that Ronaldo is ready to admit to four counts of tax fraud that would carry a prison sentence of two years. Prison sentences not over two years in Spain are often suspended for first-time offenders.
The deal has yet to be ratified by Spain's Tax Office, according to different Spanish media including Europa Press news agency.
Neither Spain's Tax Office, its Ministry of Justice nor people close to Ronaldo would confirm the existence of a deal when called by The Associated Press.
Reports of the deal came hours before Ronaldo scored three goals to give Portugal a 3-3 draw with Spain in their opening match of the World Cup in Russia.
One year ago, a Spanish state prosecutor accused Ronaldo of four counts of tax fraud from 2011-14 worth 14.7 million euros ($16.5 million). The prosecutor accused Ronaldo of having used shell companies outside Spain to hide income made from image rights. The accusation does not involve his salary from Real Madrid.
Ronaldo denied any wrongdoing when questioned by a judge last July.
In 2016, Barcelona forward Lionel Messi received a suspended 21-month jail sentence after being found guilty of defrauding tax authorities of 4.1 million euros (then $4.6 million).
(With AP inputs)