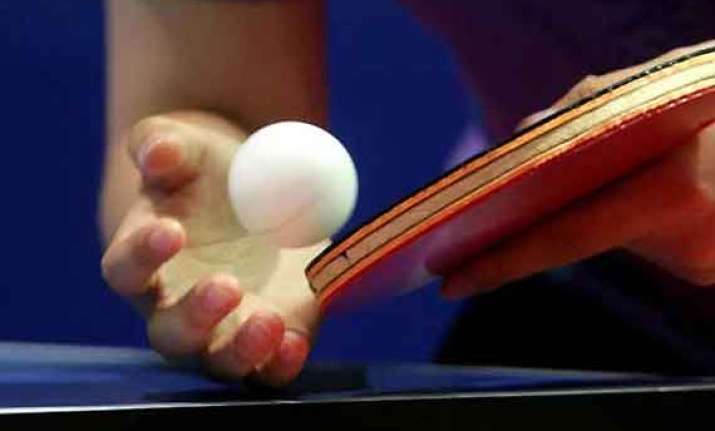 Siliguri: All the top women seeds set the ball in motion by entering the next round at the National Ranking (East Zone) Table Tennis Championships at the Municipal Stadium here Friday.
As expected, the qualifiers had to suffer the brunt of their fancied opponents in the main draw of the women's singles, falling by the wayside in one-sided first round matches.
Petroleum paddlers yet again proved their superiority, while players representing other institutions really struggled to come anywhere near them. But a few seeded players had to bring out their best to prevail over their rivals.
At least there were a couple of women's singles matches that kept the audience interested. The one between veteran and sixth seed Anandita Chakraborty and youngster Ayhika Mukerjee went down to the wire with experience overcoming enthusiasm with a 4-3 verdict.
The qualifier, who lost 16-14, 16-18, 11-3, 9-11, 5-11, 11-8, 8-11, had her chance at 8-8 in the decider but Anandita prevailed taking the necessary three points on the trot.
Nikhat Banu went down fighting to Tekme Starkar 11-7, 11-7, 9-11, 7-11, 5-11, 11-9, 8-11. Madhurika Patkar also recovered well to beat Prajakta Tipale of LIC 11-5, 6-11, 9-11, 11-9, 9-11, 11-1, 11-4.
In other matches, Krittwika Sinha Roy, representing the Airports Authority of India (AAI), had the measure of a fighting Shreya Ghosh from the Railway Sports Promotion Board.
Krittwika won the duel 4-2 (11-7, 8-11, 11-9, 11-9, 8-11, 11-6). The AAI paddler has a tough job in the second round as she will face top seed and national champion K. Shamini.
The first two rounds in men's main draw will be held later this evening and they will be followed by women's singles second round matches.