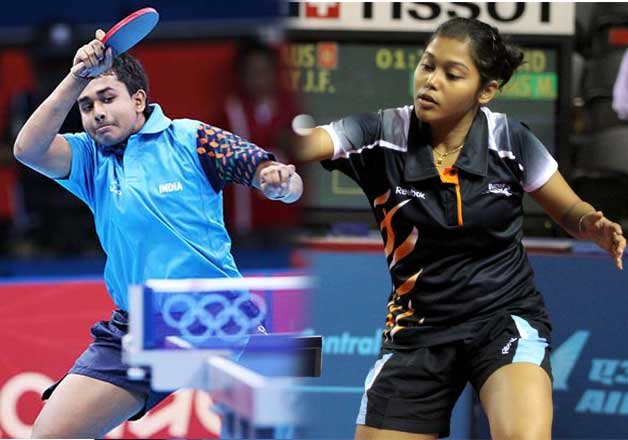 Puducherry: Soumyajit Ghosh upstaged top seed G. Sathiyan 4-2 to regain the men's crown while Mouma Das outclassed Poulami Ghatak by the same margin to claim the women's title at the 76th senior national table tennis competition here Saturday.
Ghosh took home Rs.2 lakh and Das, who was taking on Ghatak for the fourth time since their first final appearance in 1998 at Ajmer, received Rs.1.40 lakh. The runners-up in both sections got half the amount as their prize money.
Ghosh, who first won the title at Raipur two years ago, had to prove a point to himself rather than his critics. Sathiyan, in great form this season, just could not match a superb display from Ghosh.
With a comfortable 3-1 cushion, Sathiyan was playing into Ghosh's hands and the latter had to simply keep the ball on the table. He did that with perfect placing and good, aggressive backhand winners.
A rattled Sathiyan, however hard he tried, could not match that and surrendered to the guiles of Ghosh.
Top seed Das rallied back after being 0-2 down, and outwitted Ghatak with clean execution of shots from both flanks and top-spin backhand serves.
Ghatak, in spite of her ability to come back any time, was somewhat hampered by her 32 year old opponent's tactics and committed far too many mistakes. Once Das equalised, things went out of Ghatak's hands.
Except for one semi-final each in the men and women's sections, the two others were totally one-sided. If Sathiyan, in roaring form this season, made mincemeat of Harmeet Desai with an outright 4-0 victory, six-time national champion Ghatak was equally severe on young Ankita Das.
Unlike these two semi-finals, the one between Soumyajit Ghosh and surprise package Raj Mondal had all the thrilling moments.
In fact, the match seemed going only one way as Mondal raised his game against the former national champion, going 3-1 up. But Ghosh's fighting qualities stood him in good stead as he came back nicely to take the last three games.
In fact, Mondal had a very good chance in the sixth game but he only managed to stretch Ghosh a bit before the latter levelled the score.
Having done that, Ghosh played a cool game to sew up the decider, much to the disappointment of Mondal, who will rue the missed chance, after making his maiden semi-finals appearance.
He was, probably, guilty of not keeping the initial attacking posture, instead preferring to slow down midway through.
Results:
Men's Singles: Final: Soumyajit Ghosh (PSPB) bt G. Sathiyan (PSPB) 4-2 (11-7, 9-11, 11-3, 13-11, 13-15, 11-9); Semi-finals: G. Sathiyan (PSPB) bt Harmeet Desai (PSPB) 4-0 (11-9, 11-8, 11-7, 11-5), Soumyajit Ghosh (PSPB) bt Raj Mondal (RBI) 4-3 (8-11, 11-5, 4-11, 4-11, 11-4, 12-10, 11-8).
Doubles: Final: Sanil Shetty/Anthony Amalraj (PSPB) bt Jubin Kumar/Sourav Chakraborty (Har) 3-1 (11-8, 7-11, 11-6, 11-7).
Women's Singles: Final: Mouma Das (PSPB) bt Poulami Ghatak (PSPB) 4-2 (7-11, 7-11, 11-3, 14-12, 11-7, 11-6);Semi-finals: Mouma Das (PSPB) bt K. Shamini (PSPB) 4-3 (7-11, 13-11, 11-7, 8-11, 11-6, 6-11, 11-5), Poulami Ghatak (PSPB) bt Ankita Das (PSPB) 4-1 (11-1, 11-9, 7-11, 11-3, 11-1).
Doubles: Final: Mouma Das/K. Shamini (PSPB) bt Mallika Bhandarkar/Vedika Garga (Mah-B) 3-0 (11-8, 11-3, 11-5).
Mixed Doubles: Final: Raj Mondal/Krittwika Sinha Roy (RBI) bt Sourav Saha/Mousumi Paul (WB) 3-1 (7-11, 11-2, 11-1, 11-7).