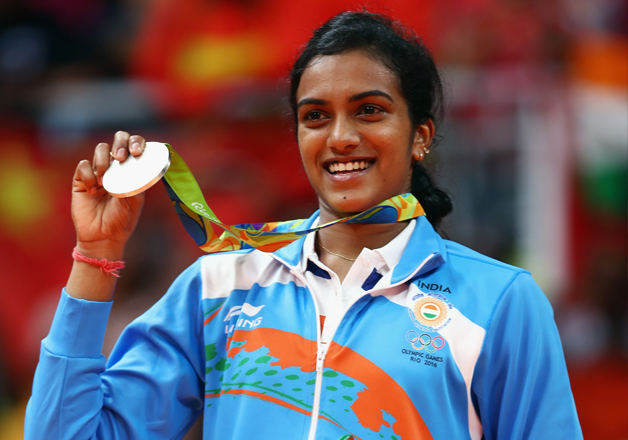 After bagging historic silver in women's singles badminton competition at the Rio Olympics, an elated PV Sindhu said that she implemented all the strategies and gave her best to achieve the feat.
The 21-year-old said she was proud to bag the Silver medal although she felt Gold would have been better.
"What do I say? I am really proud that I could get a Silver medal at Olympics. A Gold would have been good but I played very well," Sindhu, who also becomes India's youngest athlete to bag a medal at Olympics, said.
"I am on Cloud Nine. It's been a surprisingly great week. I played well, I had some great matches and now, I am Olympic silver medalist," the first Indian woman to win Silver added.
"Initially, I did not think I would win a medal. But when I came into medal contention the aim was to play well, which I did. I played my best. My opponent also played a good game. I implemented all the strategies which we had discussed, and I am very happy that I could get a Silver," the immensely talented Hyderabadi girl said.
"I think I just need to celebrate," she laughed.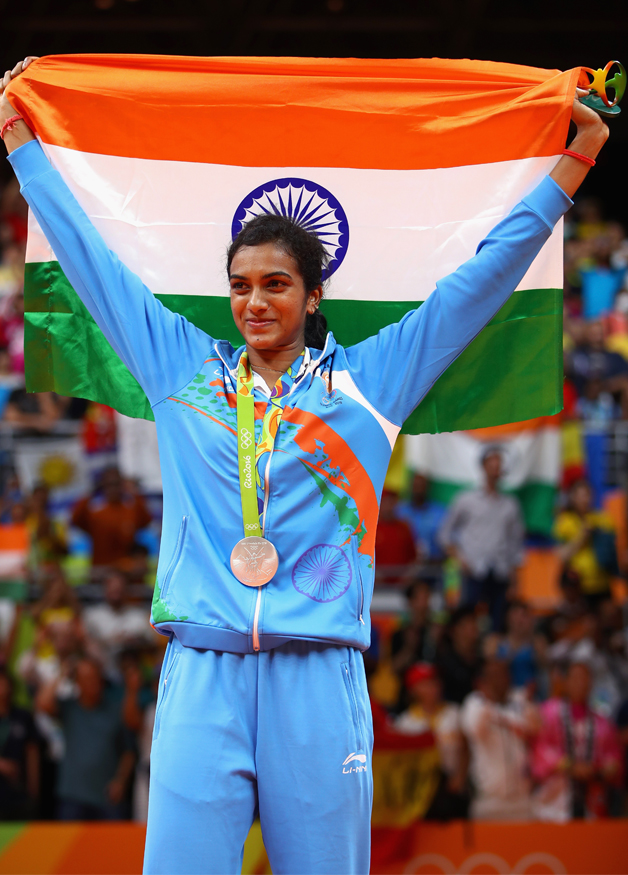 Sindhu settled for the white medal after being beaten 21-19, 12-21, 15-21 by World No.1 Carolina Marin of Spain. Her Silver took India's tally to two medals after wrestler Sakshi Malik settled for the Bronze in the 58 kilogram Freestyle category on Wednesday.
"I am very proud to be an India, especially first Indian to win individual silver medal. I am very thankful to everybody out there who all supported and who all prayed for me," she said.
"I understand things will be different, very different from now on. There was Sakshi in wrestling the other day, and some others came close, missing by the closest of points. All I can tell them is, 'Hard luck, but well played.' I had come here with an aim, of winning a medal. That has happened. Life will definitely change from now. I can already feel it. But for now, I'm just getting used to the idea of 'Olympic medallist' next to my name," she replied when asked about two women medal winners from India at Rio.
On Friday evening, the nation came to a standstill with people glued to television sets as Sindhu took on Marin at the Riocentro - Pavilion 4 in the hard-fought summit clash, which lasted one hour and 20 minutes.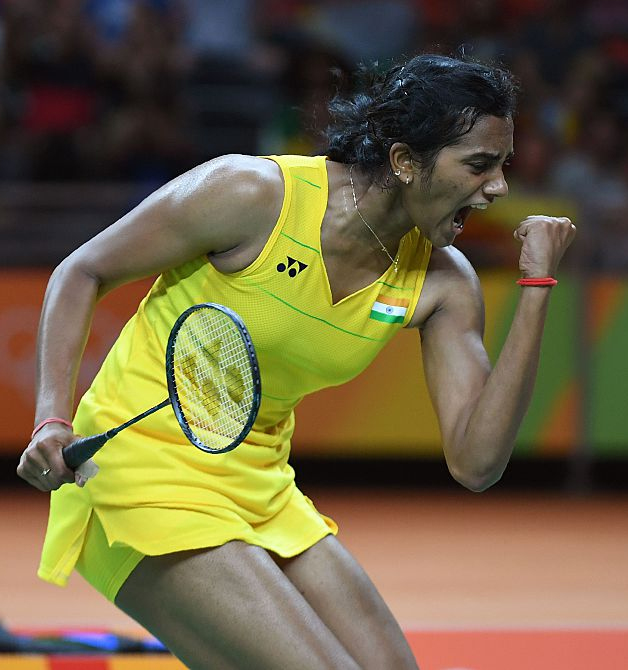 The Hyderabadi started on a positive note but after 3-3, the Spaniard dominated the proceedings and took four consecutive points to lead 7-3 and then 9-5.
Unperturbed by the pressure of the occasion and her towering opponent, Sindhu controlled her nerves and displayed swift court movements and hit bodyline smashes to diminish the lead to 13-15.
Sindhu, who was trailing 16-19 at one point, fought her heart out and took five points on the trot to claim the first game in 27 minutes.
Carolina, who can annoy any player with her shuttle retrieving techniques, looked like a spectator as it was Sindhu who reversed the roles to clinch the first game 21-19.
In the second game, Carolina, dubbed the "Girl Nadal in Spain" after male tennis star Rafael Nadal, attacked from the start. The Indian couldn't manage to control the torrent of attacks and trailed 2-11 at the mid-game break.
After the break, Sindhu tried to bounce back and displayed a lot of power and strength to dismantle the strategy of the Spanish opponent but failed and relinquished the second game 12-21.
In the decider, Carolina got off to a flying start as she took a five-point lead in the initial stage at 6-1.
But Sindhu, who was on a giant-killing spree after dismissing two higher-ranked opponents in competition, displayed grit to pull level at 10-10. Carolina went into the mid-game interval leading by a slender one point margin.
After the breather, the duo continued to fight for each point valiantly but it was the more experienced Carolina who proved superior. Sindhu though kept herself within a touching distance of Carolina at 14-16. But Sindhu was left powerless when Carolina upped the ante to pull ahead 19-14. She edged closer to match point with a half smash and eventually clinched the contest 21-15.
With Agency Inputs