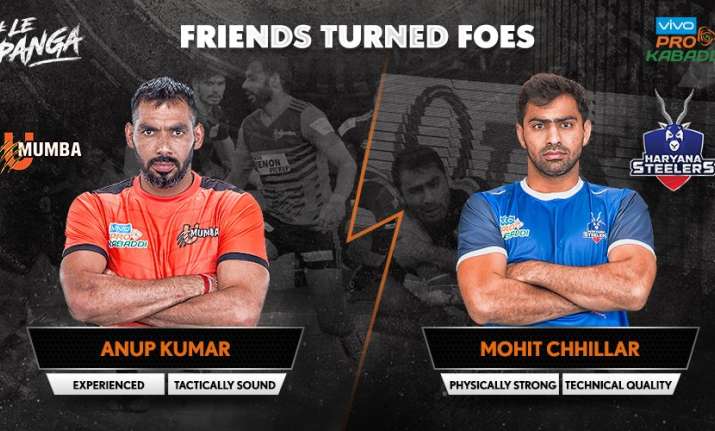 Pro Kabaddi Season 2 champs U Mumba beat Haryana Steelers in a close encounter by one point 29-28 in the Gachibowli Indoor Stadium, Hyderabad. This is Mumba's first victory in season five of Pro Kabaddi League 2017. U Mumba lost their first match against Puneri Paltan in the Maharashtra derby. Mumba's Kashiling Adake gets the 'Perfect Raider' award with seven raid points in the match. 
Player of the Match goes to Haryana Steelers skipper - Surender Nada, he scores five points in defence for the Steelers. In the next match, home side Telugu Titans will take on Bengaluru Bulls in the 'Southern Derby'.
HIGHLIGHTS FROM U MUMBA vs HARYANA STEELERS, PRO KABADDI LEAGUE 2017
20.59 IST: Final Raid of the match, captain Anup Kumar wins it for Mumba. U Mumba beat Haryana Steelers by one point 29-28
20.58 IST: Wazir Singh scores two points for Steelers, this is going to be a close one. Haryana 28-29 Mumba
20.57 IST: Steelers gets one point, Haryana 26-29
20.56 IST: U Mumba scores in defence, great work. U Mumba 29-25
20.53 IST: Deepak Dahiya scores a point for Steelers, Haryana 25-28
20.51 IST: U Mumba gets one more, Mumba 28-24
20.50 IST: U Mumba score one in defence, they lead by two points 26-24 Steelers
20.49 IST: Empty Raid from Anup Kumar.
20.46 IST: Haryana gets one more point in defence, solid workd from Surender Nada. Haryana Steelers 24-25
20.45 IST: Defence error from U Mumba, Wazir Singh scores for Steelers. Haryana 23-25
20.44 IST: Joginder Narwal gets one for Mumba in defence, U Mumba 25-22
20.44 IST: Steelers get one in defence, they trail by two points. Mumba 24-22 Steelers
20.43 IST: One point for Steelers in raiding, Haryana 21-24
20.42 IST: Mumba score in defence, U Mumba 23-20 Steelers
20.41 IST: Haryana Steelers All-out! Anup Kumar leads from the front for Mumba, U Mumba lead 22-20
20.38 IST: Super Raid for Mumba! Three point raid by Kashiling, U Mumba 18-19 Haryana Steelers
20.37 IST: Unsuccessful Review by Haryana Steelers, U Mumba 15-19
20.35 IST: Super Tackle for U Mumba! Two points for Mumba 14-19 Steelers
20.34 IST: Anup Kumar sent off, Khandola gets one point in raiding for Steelers. Haryana 19-12
20.33 IST: Steelers score in defence, Haryana 18-12
20.32 IST: Wazir Singh picks one more point for Steelers, Haryana 17-12
20.30 IST: Steelers score once again in defence, Haryana 16-12
20.29 IST: First point for U Mumba after half-time. Mumba 12-15 
👬
The Mohit-Surender partnership pull off a sensational tackle! Are they the most Pangebaaz pair in #VivoProKabaddi? #MUMvHAR

— ProKabaddi (@ProKabaddi) July 30, 2017
20.23 IST: U Mumba All-out as Anup Kumar pinned by the debutants. Haryana Steelers leading 15-11 at half-time.  
20.21 IST: Another defence error from U Mumba, Steelers 11-9
20.21 IST: U Mumba Captain gets one point and revives one man for his side. Mumba 9-10
20.20 IST: Another point for Vikash Khandola, Steelers 10-8
20.19 IST: One more point for Haryana Steelers, they are leading now. 9-8
20.17 IST: Another point for Haryana, this time in Raiding. 8-8
20.17 IST: Haryana Captain leads from the front, great leg hold, Steelers 7-8
20.15 IST: Shabeer Bappu raids successfully for U Mumba, Mumba 8-6​
20.14 IST: Surjeet Singh raids successfully for Steelers, 6-7
20.13 IST: Haryana Raider get one back, Steelers 5-7 U Mumba
20.12 IST: Do-or-die raid for U Mumba, Kashi gets his man. U Mumba 7-4
20.10 IST: U Mumba pin Wazir Singh down on the mat, good work by U Mumba 6-4
20.10 IST: One point for Haryana Steelers, they trail by one point 4-5 U Mumba
20.08 IST: Brilliant tackle by Mohit Chillar, Mumba 5-3
20.06 IST: Kashi gets two touch points, U Mumba lead 4-3 
20.06 IST: Haryana Steelers score one more point in raiding. They lead 3-2
20.05 IST: Kashi gets his first point of the match, U Mumba 2-2 Haryana Steelers
20.04 IST: First bonus point of the match, Haryana Steelers lead 2-1
.@HaryanaSteelers' fans edge the #Mumboys in today's Matchday Panga! Now it's time to #LePanga on the mat! pic.twitter.com/WmUC0QykHH

— ProKabaddi (@ProKabaddi) July 30, 2017
20.01: Steelers get their first point of Pro Kabaddi League 2017, scores level 1-1
20.01: Captain Anup Kumar draws first blood, U Mumba 1-0 Haryana Steelers
19.56 IST: 
#LePanga writes its own scripts as Haryana's @IamAnupK faces @HaryanaSteelers in their debut match! Don't miss #MUMvHAR tonight!

— ProKabaddi (@ProKabaddi) July 30, 2017
19.51 IST: 
.@HaryanaSteelers make their #VivoProKabaddi debut in #MUMvHAR, followed by Rahul vs Rohit in #HYDvBLR! Watch LIVE action on Star Sports! pic.twitter.com/snEKXWkuYI

— ProKabaddi (@ProKabaddi) July 30, 2017