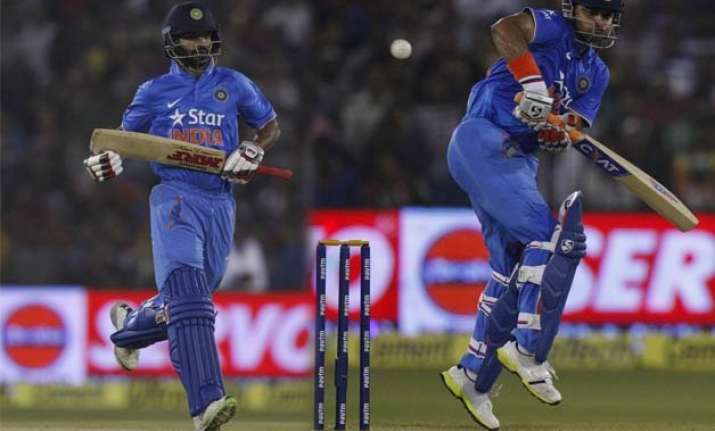 New Delhi:  Team India has finally returned to winning ways in the ongoing series against South Africa. Skipper Mahendra Singh Dhoni played a captain's knock to level the ODI series 1-1 in. In the Indore ODI, Team India's players performed very well specially during the second innings.
Kohli's stunning catches, Axar Patel's turning deliveries and Bhuveneshwar Kumar's wicket taking deliveries in the helped India defeat South Africa by 22 runs.
However, for the upcoming matches, the biggest concern for Dhoni will be his 'injured' left hand. The left hand we are talking about is not his physical left hand but the performance of Team India's two lefthanders Shikhar Dhawan and Suresh Raina.
Opening batsman Shikhar Dhawan is having an 'blow hot and cold' form and needs to find his form quickly as it will take off some pressure from his opening partner Rohit Sharma and Team India will get a good solid opening partnership.
Shikar has scored just 14 runs in two T20 matches and 46 runs in the first two ODIs against South Africa. Dhawan has been dismissed 7 times before he could score a half century in the last 10 ODI matches.
The form of Suresh Raina is also creating concerns among the cricket fans. Experts believe that Raina has not able to play the short pitch delivery as a result of which he is not able to score freely.
The role of Raina is to score runs quickly but the southpaw has just scores 36 runs in the two T20 matches and 3 runs in the two ODIs.
In the last 10 ODI matches, Raina was caught behind which shows that his feet is not moving freely and also the batsman is low on confidence. He was dismissed five times before he could even score 25 runs in the last 10 ODI matches
It has become utmost important for Team India that these two left-handed batsman find their form back sooner than later which will help Team India in defeating a competitive South African team.