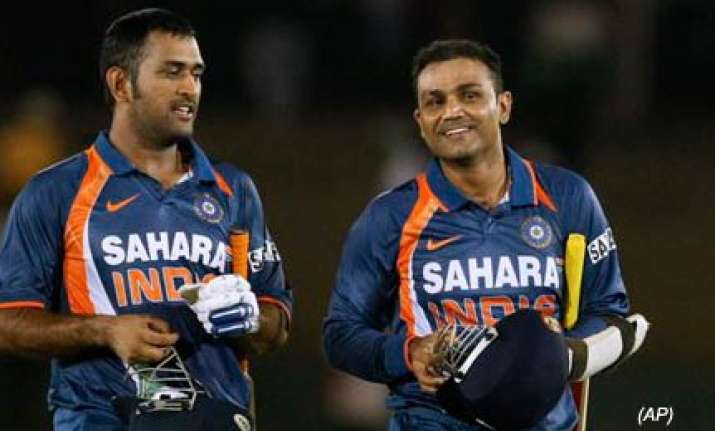 Dambulla (Sri Lanka): In a shocking display of unsportsmanship, Sri Lanka spinner Suraj Randiv bowled a deliberate no-ball to leave Virender Sehwag stranded on 99 in a cricket tri-series match here tonight.  
The scores were tied at 170 and Sehwag was just one short of his 13th One Day hundred when Randiv, who has not bowled a no ball in the Test or ODI series this season, bowled a no ball which was hit by the swashbuckling opener for a six. The six however did not count because the no ball amounted to India's winning run.  
 Without realising that, Sehwag raised his arms in the air in celebration only to be told that the score board would show him not out at 99. India comprehensively won the match comfortably by six wickets but the conduct of the Sri Lankan team caused upset in the Indian camp.  
Minutes later, a livid Sehwag told journalists that Sri Lanka has a record of doing such things and he pointed out that they had left Sachin Tendulkar stranded at 99 with similar tactics in Cuttack. Sehwag said that Randiv had not bowled a single no ball earlier and asked "How can he bowl one at this point."  
 "It was clear that the Lankan team did not want him to get his 100," the opener said. Sri Lankan captain Kumara Sangakkara appeared to take the episode lightly but later on said he would talk to Randiv. "He is not that kind of a cricketer. If some members of the team have coaxed him I will take it up strongly," he said.  
"This is not the spirit of cricket," he acknowledged. Former India Captain Sourav Ganguly speaking to a TV channel said that this was not the first time Sri Lanka had done such a thing. They had done the same to him in a Test match at Kandy in 2002 where he was left stranded on 98, he said. PTI