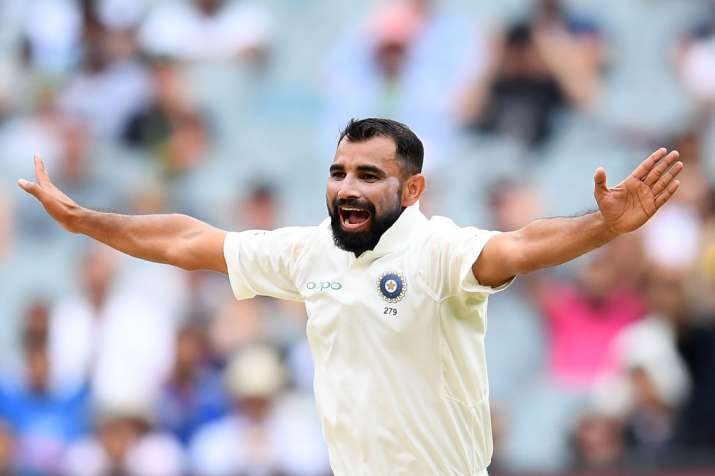 Live Cricket Score, India vs Australia, 3rd Test, Day 4: Hello and welcome to our live blog of India vs Australia 3rd Test being played at the Melbourne Cricket Ground (MCG). Australia pace bowler Pat Cummins took four wickets in eight balls but India retained the upper hand with a 346-run advantage after an action-packed third day of the third Test. On a Melbourne Cricket Ground pitch offering variable bounce, Australia lost 10 first-innings wickets and India reached 54-5 at stumps on Friday. India holds an overall lead of 346 runs with five second-innings wickets in hand. Fast bowler Jasprit Bumrah, in his first year in Test cricket, took a career-best 6-33 as India claimed a 292-run lead on the first innings. Australia's brittle batting lineup was bowled out for 151 in reply to India's 443-7 declared. Do join us at 05.00 IST to follow all the action that is about to unfold on a pivotal Day 4. (IND vs AUS 3rd Test LIVE SCORECARD | Read in Hindi)
When, Where and How to Watch IND vs AUS 3rd Test Live Stream Online and TV Coverage
Live Cricket Score, India vs Australia, 3rd Test, Day 4
* India did well for the most part. Got rid of the top and middle order without much trouble, but as it has been the case for them on most occasions, failed to run through the tail. Actually, you could argue that they could have plucked those wickets earlier too had Virat Kohli been a little more brave and kept an attacking field. There were a few edges which flew through vacant catching positions. All did well for the most part, with everyone chipping in with the wickets barring Vihari.​
*A fine, fine performance from Pat Cummins. He's ensured that this Boxing Day Test goes into the final day. He put on two partnerships of substance - the first with Starc worth 39 and the next with Lyon, unbeaten on 43. It says a lot about the Australian side that Pat Cummins of all of them is the one to score their first fifty in this Test. Had the others stuck around and showed the same kind of temperament and application as Cummins, then things might have been much different right now.​
12.55 IST: It's a dot and Aussies tail survived the wrath of Indian bowlers in the extra time, excellent fight by Cummins and Lyon. AUS 258/8 need 141 runs to win at stumps on Day 4
* Shami to bowl the final over of the day
12.50 IST: Tight over from Jadeja but no wickets. AUS 257/8 need 142 runs to win
Jadeja to bowl the second last over of the day
12.48 IST: Australian tail is not giving up they survived another over of Shami.
* Shami to bowl the third last over
12.44 IST: FOUR! No stopping him, is there? What a wonderful straight drive from Pat Cummins, even Virat Kohli would be proud of that one. Full and in the slot, Cummins hits it back past the bowler and across the rope. AUS 252/8
12.40 IST: FOUR! Superb shot. Too full from Sharma, outside off, Cummins drives it through the gap in the covers and sends it across the boundary line.  AUS 248/8
12.37 IST: FOUR! FIFTY! Cummins completed his second half-century in Test cricket with a textbook shot. AUS 243/8
* New Ball Taken
12.32 IST: Only one run from the over, but that's not the case here India needed wickets to win the match today itself. AUS 234/8
* Jadeja continues from other end.
12.27 IST: The slower one outside off, slightly fuller in length, Lyon lofts it over covers and takes two for it. AUS 233/8 need 166 runs to win
12.25 IST: It will be a tough task for Australian tail to survive more 
* Good news for Indian fans umpires decided to stretch the game for 8 more overs.
12.20 IST: YORKER! It was the perfect ball but Nathan Lyon the GOAT defends it well. AUS 229/8
12.18 IST: Bumrah to bowl the final over of the day
12.07 IST: LOUD APPEAL from Ishant Sharma but umpire Ian Gould did not don't show much interest. AUS 223/8
* 4 overs left for the day.
12.04 IST: In the air but in no man lands Lyon is safer, frustration is getting higher for Indian bowlers. AUS 222/8
* Ishant Sharma returns to the attack.
* Nathan Lyon to bat next.
11.53 IST: OUT! Bowled 'em! India one step closer to a famous victory. Shami continues from around the wicket and as always, keeps attacking the stumps, it comes in on a fuller length around off and Starc goes for the big shot. Leaves a big gap between bat and pad and the ball shatters the stumps behind. AUS 215/8 
11.50 IST: Shami keeps attacking the stumps once more, it's full in length. Starc drives it aerially straight back past Shami's (left) outstretched hand. A brace is collected by the batsmen. AUS 211/7 need 188 runs to win
11.44 IST: FOUR! It was a thick edge from Cummins' willow and ball races away from the boundary. AUS 208/7 need 191 runs to win
11.36 IST: FOUR!Fine placement and timing from Pat Cummins. It's a bit short and with some room on offer outside off, the batsman cuts this square past point and beats the chasing fielder to the fence.  AUS 200/7
11.33 IST: SIX! That's outta here! Pat Cummins makes sweet connection on this one. Sees the flight, plants his front foot forward and smokes it over long off for a biggie. AUS 196/7 need 203 runs to win
11.28 IST: FOUR!That's a clean hit. Full and right in the slot from around the wicket, Starc stands his ground and lofts it over mid on to find the fence. AUS 187/7 need 212 runs to win 
11.27 IST: 13 overs left of the day, India still need 3 scalps to gain 2-1 lead in the four-match Test series.
* Rishabh Pant hits back at Tim Paine when he came to bat Take a look of their banter.
It was Rishabh Pant's turn for some fun on the stump mic today... #AUSvIND pic.twitter.com/RS8I6kI55f

— cricket.com.au (@cricketcomau) December 29, 2018
11.13 IST: OUT! Another one absolutely against the run of play and with no help off the surface. The skipper is gone! Australia are seven down and India have one foot in the door now. The trick of coming over the wicket has somehow worked. Jadeja pulls his length slightly back this time and Paine is induced into the cut off the backfoot. The ball keeps a tad bit low and takes the under edge on its way through and Pant holds on for a really smart catch. The Indians have broken this annoying partnership and smell an early finish to this game possibly even on Day 4 now. Australia 176/7 & 151 need 227 runs to win
*Jadeja returns to attack replacing Vihari 
11.01 IST: Sharp bouncer by Bumrah and Cummins ducks it well. AUS 171/6 need 228 runs to win
10.56 IST: Paine pulled it for a double, India need to break this partnership to win the match today. AUS 164/6
10.51 IST: Quick over from Vihari maybe he completed it even faster than Jadeja. AUS 162/6 need 237 runs to win
* Hanuma Vihari comes in place of Ravindra Jadeja
10.42 IST: Excellent Over by Ishant Sharma, Pat Cummins looked clueless throughout the over. AUS 159/6 need 240 runs to win
10.37 IST: MAIDEN OVER! Tough road ahead for Australia now as this match has almost slipped from their fingers. AUS 157/6 need 242 runs to win
* Pat Cummins in at number 8, replacing Travis Head.
10.30 IST: OUT! A wicket against the run of play! Can you believe it? Chopped on, it is the first for Ishant and a distraught Travis Head has to walk off. On a length ball well outside off, seems to have stuck a bit in the pitch and comes on to the batsman slowly. Head looks like he is into the back foot drive a little early, and the ball takes the inside edge, goes onto the stumps. Head had done everything right till now, but alas he has been undone finally. A body blow to the Aussies. India require 4 more wickets to wrap the Boxing Day Test. Australia 157/6 & 151 need 242 runs to win 
* 27 overs remaining for today's play and India need 5 wickets to win the match
10.26 IST: Travis Head defends the over well and now the two batsmen just want to stick to the wicket to avoid defeat today Only run from the over. AUS 156/5 need 243 runs to win
* Ishant Sharma returns to attack replacing Shami
10.12 IST: Edged and FOUR! Second time lucky too! This one is much finer though. The ball is on a good length and takes the outside edge of Paine who was looking to push this through the covers. The ball flies wide of Pujara at first slip and to the fence. Good bowling this by Shami.  AUS 150/5 need 249 runs to win
10.10 IST: Edged and FOUR! Paine would have had his heart in his mouth for a moment there. Short of a length ball outside off, Paine stands tall and wants to play the back foot punch but the ball hurries on and flies off the outer half. It evades a diving Rahane at point and runs away for a streaky boundary. Almost had him there! AUS 146/5 need 253 runs to win
10.00 IST: FOUR! Rusty from Shami after the break. Strays down the leg side and Paine flicks it away really fine for a boundary. AUS 142/5 need 257 runs to win
* We are back for the final session of Day 4. Could possibly be the final session of the game too if things go India's way. Australia have their hopes pinned on Travis Head and Tim Paine who are making their way to the middle. The latter will take strike on the first ball. Mohammed Shami to bowl. A very straight short mid on in place.
09.44 IST: Tossed up and just outside off, Head plants his front foot forward and blocks it with the full face. TEA ON DAY 4! AUS 138/5 need 261 runs to win
09.39 IST: Rishabh Pant is all fired up after Paine's arrival. It is going to be an interesting banter.
*  Tim Paine walks into the middle now.
09.29 IST: OUT! One Marsh went before, the other one now follows him back. Bit of a soft dismissal to be honest. Jadeja comes from around the wicket and tosses it up outside off, Mitchell Marsh comes forward and drives it on the up with hard hands. Can't keep it down and he hands a sharp catch to skipper Virat Kohli at short extra cover. AUS 135/5 need 264 runs to win
09.24 IST: SIX! That's a huuuuggggeeeeee hit! Talk about brute force from Mitchell Marsh. It's tossed right up there, in the slot and the right-hander just dispatches this out of his sight. Gets low and hammers it over wide long on for a maximum. AUS 133/4 need 266 runs to win
09.22 IST: Dropped! Sharp chance, but you'd expect Pant to take that. Head comes forward to play for the turn when there is none and gets a feather behind. Pant can't react in time and hence, the chance goes wasted. AUS 126/4 need 273 runs to win
09.12 IST: Only one run from the over and the new pair settling down now. AUS 123/4 need 276 runs to win
09.03 IST: FOUR! Welcomes Ishant with a boundary. Overpitched delivery outside off, Travis Head drives this hard past mid off and the ball wins the race to the rope, leaving the chasing fielder with no chance. AUS 120/4 need 279 runs to win
* Ishant returns to attack
* Mitchell Marsh comes in now, replacing his brother.
08: 58 IST: OUT! It's umpire's call and so, the on-field call will stay. Shaun Marsh has departed after playing a solid knock. Who else but Bumrah to provide the breakthrough. He comes from around the wicket and angles in a length ball on middle and leg. Marsh looks to flick it down the leg side but misses and is rapped on the pads. A big appeal goes up and the umpire raises his finger. Shaun, after speaking with his partner, signals the 'T'. It's taken upstairs and replays show that it's clipping leg. Australia don't lose the review, but they lose something bigger. AUS 114/4 need 285 runs to win
08.53 IST: OUTSIDE EDGE and Marsh ran to snatch three runs. AUS 114/3 need 285 runs to win
08.51 IST: FOUR! Marsh drives it through covers for a boundary. AUS 109/3 
08.44 IST: SIX! The 100 is up for Australia. Shaun Marsh stays positive, gives the charge to Jadeja and gets close to the pitch. Smokes it flat over long on for half a dozen. AUS 101/3 need 295 runs to win
* Drinks are on the field. India steadily building towards that win. Shami got rid of Khawaja, but since then the elder Marsh and Head have somewhat steadied things up and look solid. Still 304 to win, but pretty sure they're not thinking about it right now. No sign of rain yet, which is a good thing.
08.39 IST: Slower one from Bumrah but it was directionless and Head finds a single. AUS 94/3 need 305 runs to win
* Here is the clip of the big wicket of Usman Khawaja
The Aussies lose a wicket and a review... #SpecsaversCricket #AUSvIND | @SpecsaversAU pic.twitter.com/uT1RZ5s0Oh

— cricket.com.au (@cricketcomau) December 29, 2018
08.33 IST: Excellent over by Bumrah, except the last ball every delivery was asking some questions from the batsmen. AUS 92/3 need 307 runs to win
* Bumrah returns to attack.
08.26 IST: FOUR! What a shot! Fuller and on off stump, Marsh leans into this on drive and times it beautifully for a boundary. Showing the maker's name this. AUS 88/3 need 311 runs to win
08.21 IST: FOUR! Fuller one wide outside off, Head connects beautifully and puts it in the gap through the covers. The ball has the legs to reach the fence. Some wayward bowling here.  AUS 82/3 need 317 runs to win
08.19 IST: FOUR! Marsh flicked it from the pads for the boundary that might release some pressure from him. AUS 72/3 need 327 runs to win
08.18 IST: Travis Head off the mark with a single on fine leg. AUS 68/3 need 331 runs to win
* Travis Head walks into the middle next.
08.10 IST: OUT! What an absolute ripper from Mohammed Shami. Khawaja can stick around for long, long periods in the game, so it's a vital moment in this Test match. Australia 63/3 & 151 need 336 runs to win​
08.01 IST: Only one run from this over, Shami is focussing on bowling short to the left-handers. AUS 62/2 need 337 runs to win
* Here is a glimpse of the shot of the day till now.
Super shot from Usman Khawaja after the lunch break!

Watch live via Kayo HERE: https://t.co/0glOblMnaq #AUSvIND pic.twitter.com/4PLxpf7ILX

— cricket.com.au (@cricketcomau) December 29, 2018
07.52 IST: FOUR! Cut away and cut away hard. Khawaja is offered a lot of room outside off, so he free his arms and flays it past the diving point fielder for a boundary. AUS 59/2 needs 340 runs to win
* Agarwal is receiving medical treatment from the physio now. Slight halt in play as a result. He's gone off the field and KL Rahul comes on as a substitute.
07.45 IST: That's got to hurt. Ouch. Nasty blow. Tossed up on the stumps, Khawaja gets low and sweeps this hard. Ends up hitting Mayank Agarwal at short leg on the side of neck. Bit dangerous, he's lucky it didn't hit him in the front. AUS 54/2 need 347 runs to win 
* Ravindra Jadeja to bowl from the other end.
07.42 IST: FOUR! That's a beautiful shot. Full and outside off, Marsh drives it with the full face of the bat and drives it past mid off for a boundary.   AUS 54/2 need 347 runs to win 
07.41 IST: LEG BYES! FOUR! Bit of a false start from Shami. He angles it on leg, Marsh looks to flick but it goes off his thigh pad. Past the diving keeper and away to the fine leg fence. AUS 48/2 need 351 runs to win 
* We are back for the post-Lunch session. Usman Khawaja and Shaun Marsh walk out to the middle, followed by the Indian fielders and the umpires. SOS to take first strike. Mohammed Shami to bowl. 
* Fourth Day, Afternoon Session ...
* India well and truly on top. After scoring 52 runs today, finishing on 106/8, they set a target of 399 in front of the Australians and blew them away with the ball early. Bumrah once again delivered the goods as he got rid of Finch early and then, Jadeja dismissed Harris soon after. Khawaja and Marsh safely negotiated the remainder of the session, but you can sense India will try to capitalize in the afternoon session with the wicket deteriorating further. It's still quite overcast out there, with the rain expected to interfere, so it's both good and bad news if it happens, depending on which side you support. The second session should be an exciting one, provided it happens. Join us on the other side of the break.
* India well and truly on top. After scoring 52 runs today and finishing on 106/8, they set a target of 399 in front of the Australians.
07.01 IST: Spinning in on middle and leg, it's turned to backward square leg for a comfortable single. LUNCH ON DAY 4! AUS 44/2 at Lunch, need 355 runs to win against India
06.52 IST: SIX! That's gone all the way! Fearless batting from Usman Khawaja. Puts the pressure on Jadeja instantly. Tossed up around off, not much spin on it, Khawaja jumps out and smokes it over long off for a biggie. AUS 40/2 need 359 runs to win
* Just an update - Virat Kohli has come back out on the field.
* Mohammed Shami into the attack now.
*Shaun Marsh is the new man in.
06.45 IST: OUT! GOT 'EM! Agarwal holds on to this one. This is a very good catch from the debutant. Jadeja lands it on the rough outside off and it kicks off from there. Turns in as Harris is forward to defend. It goes off the inside edge and flies to Mayank at short leg, who takes it. Not cleanly, but it sticks between his forearm and body. Doesn't matter, it's all the same. India have another wicket.   AUS 33/2 need 366 runs to win
06.39 IST: FOUR! Nicely executed. Khawaja premeditates the reverse sweep, it's outside off and he places it well wide of short third man to fine the boundary line. AUS 33/1 need 366 runs to win
06.35 IST: FOUR! Amazing shot from Harris. Full and on the stumps, the opener presents a straight bat in response and times the drive to perfection as he places it through mid on. A boundary results. AUS 28/1 need 375 runs to win
06.34 IST: NOT OUT! Khawaja will carry on, a poor review from India to be honest. Never looked out, even to the naked eye. Darted wide outside off, Khawaja walks down the track and looks to play at it. It lobs off the pads and goes behind to Rahane at first slip. Everyone appeals, they feel there is bat involved, so decide to review it. Replays roll in and show there's no bat involved, not even close. AUS 24/1 need 375 runs to win
* Review time. India have decided to go upstairs. They feel they've got Khawaja caught at slip. Let's see here.
06.30 IST: FOUR! Khawaja comes down the ground and smashes it over long off. AUS 24/1 need 375 runs to win
* Ravindra Jadeja comes early into the attack.
06.26 IST: Harris looked good there and played straight down the ground for three. AUS 19/1 need 384 runs to win
06.22 IST: Edged and FOUR! Khawaja is lucky to survive this. The ball is doing all sorts of things for Bumrah. Full ball angling in but then straightens up after pitching. Khawaja looks to flick and gets a leading edge as a result. Much to his fortune, it flies well past gully and runs away to the third man fence. AUS 16/1 need 387 runs to win
06.14 IST: DROPPED! Fuller length ball on middle, Khawaja goes for the flick and hits it in the air and straight to short leg. Mayank Agarwal does get his hands to the ball but cannot hold on. These ones are more instinctive than anything, cannot blame him as the ball was travelling quite fast there. Would have been huge trouble for the Aussies had he held on there. Bumrah is causing all sorts of problems for the left-hander here. AUS 6/1 need 393 runs to win
* Usman Khawaja is in at number 3.
06.11 IST: OUT! The first one goes! Caught at second slip. Bumrah draws first blood, Finch falls cheaply yet again. Length ball outside off, Finch just hangs his bat trying to cut it away. The ball takes the edge and flies to Virat Kohli at second slip, who doesn't make any mistake. Well taken and Australia are one down in the second over of their innings itself. AUS 6/1 need 393 runs to win
06.09 IST: six runs from first over, positive start from. AUS 6/0 need 393 runs to win
* Ishant to bowl the first over
*This morning again, he started from one end and kept the fire going. The pitch helped him as picked the wicket of Agarwal with one that kept low and got to his fifth. Then, bounced out Jadeja with a snorter of a ball. The last one to fall was Pant who was caught behind off a Hazlewood delivery. The Indians will not mind this too much as they got what they came for and scored the runs they think they required. Now onto the chase then, not going to be easy for the hosts. The final innings in a bit then.
* And with that dismissal, Virat Kohli calls the batsmen off and India have declared on 106-8. AUSTRALIA NEED 399 TO WIN! A quick moving hour of play this morning. The Indians came out playing their shots and eventually lost wickets as well. It didn't matter that much as they have added 53 runs to their overnight lead. The Indian second innings was about Mayank Agarwal again as the opener scored a good-looking 42 to follow up his 76 in the first dig. But more than him, the second innings was about Pat Cummins who picked up six wickets. 4 of them came the previous evening where he had the two best Indian batsmen out for ducks.
05.58 IST: OUT! Pant departs looking to score off an innovative stroke. Hazlewood bangs it short on middle and leg, Pant makes room, looks to ramp it over the keeper's head but can get it only as far as Paine behind. Simple take for him. IND 106/8 and 443/7 decl
05.51 IST: SIX! BANG! Take that, Josh Hazlewood. Shows his no mercy. Wow. The big pacer comes from around the wicket and fires it full outside off, Rishabh Pant just throws everything behind this and bludgeons it straight back over the bowler's head for a maximum. Amazing hit.   IND 106/7 and 443/7 decl
* Review taken. It's for a caught behind decision against Mohammed Shami.
05.45 IST: OUT! Bounced him out! Cummins has six! Might not be very important in the context of the game but mighty good performance from the quick. The previous ball was well outside off but this bouncer was aimed at the body and immediately, Jadeja is uncomfortable. He tries to fend it off on the leg side but the ball lobs off the glove and flies towards Usman Khawaja at gully who comes ahead and takes this catch. Cummins has bowled beautifully yesterday and today, gets his sixth. India are effectively 392-7 now. IND 100/7 and 443/7 decl
05.43 IST: FOUR! What an awesome shot that was from Jadeja, Sheer class from the left-hander, he pull it through mid on for boundary India reach 100. IND 100/6 and 443/7 decl
05.37 IST: SINGLE! BYE! Jadeja swings the bat but he misses the connection with bat completely. IND 93/6 and 443/7 decl
05.30 IST: FOUR! PUNCHED! Stand and deliver stuff from Rishabh Pant. Produces these brilliant shots every now and then. This ball is on a shorter length outside off, Pant stands tall and punches this one off the back foot towards cover and the ball reaches the fence. Deep point cannot come around in time to stop it. IND 88/6 and 443/7 decl
* Ravindra Jadeja in at number 8, replacing Mayank Agarwal. Also, Josh Hazlewood to replace Nathan Lyon.
05.23 IST: OUT! Cummins removes Mayank for 42. IND 83/6 & 443/7d, lead AUS (151) by 375 runs
05.20 IST: FOUR! BYES! That has gone through everything. Pacy and incredible movement after landing, must have hit a crack or something on the wicket. The deviation is huge after landing on off and middle. Agarwal who was looking to drive this uppishly back down the ground is beaten between his bat and pads and the ball misses his leg stump due to the ball seaming and bouncing. Paine too, can't get a hand on it and the ball runs away for four byes.  IND 83/6 & 443/7d, lead AUS (151) by 375 runs
05.17 IST: FOUR! Short and wide, Rishabh Pant cuts this really late and fine to beat Pat Cummins at backward point. The ball runs all the way to the fence, with the pace on the ball. IND 77/5 and 443/7 decl
05.13 IST: SIX! The second maximum of the over! Lyon isn't used to this, at least not so far in this series. Another looped ball on middle, Agarwal comes down the track again and just times this one with a brilliant straight-bat loft over the bowler's head. The ball goes all the way and hits the sightscreen. Real good batting this, showing people how to play the wily off-spinner. IND 72/5 and 443/7 decl
05.09 IST: SIX! It's huge! Looped outside off and Agarwal has his dancing shoes on as he comes down the track and lifts it over long off for a biggie. Lovely shot especially against the turn. Looks like Mayank has come out with a set plan. IND 66/5 and 443/7 decl
05.06 IST: DROPPED! Cummins could have had his fifth but Paine can't quite hold on. The ball came in after landing on a length outside off from around the wicket. Pant tried to push at the ball but got an inside edge that carried to Paine who dived to his right to take this one but couldn't hold on. The ball rolls towards the fence where Mitchell Marsh makes a good stop and saves a couple of runs for his team.  IND 56/5 and 443/7 decl
* Pat Cummins to bowl from the other hand. 
05.03 IST: Only two runs from the first over of the day the young duo need to stay their till the Lunch. IND 56/5 and 443/7 decl
*The players and umpires have made their way onto the ground. Nathan Lyon to begin proceedings and Mayank Agarwal will take strike for India, Rishabh Pant at the non-striker's end. The umpire says 'Play' and here we go!
*So, then, Day 4 should be an amazing watch, if we are allowed to have some uninterrupted action that is. There is a 60 percent rain forecast for the day and it has been raining on and off causing the groundstaff to bring on the covers and take them off in a cat and mouse type way. Intermittent thunderstorms are predicted for the day and all we can do is hope for them to stay away so we can have some good cricket. Although, these rains might come to help Australia to remove some time out of the game and try for a draw. But if it doesn't rain and we do have a normal game, then India would like to score some quick runs from the bats of mainly Mayank Agarwal, Rishabh Pant and Ravindra Jadeja. The aim will be to set a target that is too high for the hosts to achieve while trying to make them bat soon so that they can have enough time to pick 10 wickets too. The action is not far away.
*Welcome to Day 4! What a magnificent day the third one was. After two slow days, Day 3 was just what this Test needed to come to life and boy, did it spring to life or what? Never mind what team's supporter you are, what you want to see is tough Test cricket and a great battle between bat and ball. 15 wickets fell, India decided they did not want to bat fourth for some reason, Australia reduced the visitors to 54/5 by the end of the day to remain valid in the game. What did the game not have? Wonderful for viewership and the Test is back alive, but one would have to believe that despite their poor start in the 2nd innings, India do hold the cards in the game with the 346-run lead they have currently.
Live Cricket Score, India vs Australia, 3rd Test, Day 4 from Melbourne: IND (54/5 & 443/7d) lead AUS (151) by 346 runs
Brief Day 3 Report: Pacer Jasprit Bumrah had Australia's batsmen tied up in knots with his immaculate line and length, giving India the decisive advantage that withstood a second innings batting collapse in the third Test match in Melbourne on Friday. Called a "genius" on air by Australia's former captain Michael Clarke, Bumrah's career-best figures of 6/33 in 15.5 overs also made him the first bowler from the subcontinent to take a five-for or more in South Africa, England and Australia in the same year. At the end of day three, India, after bowling out Australia for 151 in response to their first innings total of 443/7 declared, took a 346-run lead. The visitors were struggling at 54/5 in 27 overs in their second essay but had the upper hand. (Read Full Report)