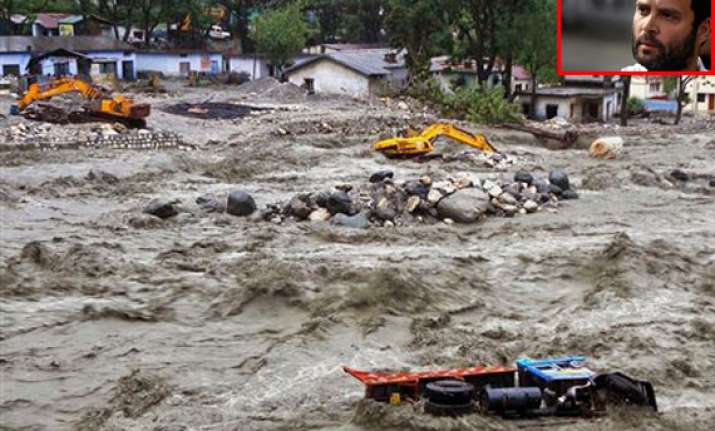 New Delhi, Jun 22: The social media is abuzz over the non-appearance of Congress vice president Rahul Gandhi during the current Uttarakhand natural disaster.
On Twitter, there is a constant chant of #WhereIsPappu to try and pry an answer out of the reticent Gandhi scion  regarding his whereabouts at this time of emergency, with Congress party saying that "it should not matter who has gone and who has not."
Asked about Rahul Gandhi at the party briefing, Congress spokesperson Raj Babbar said on Friday that the top leadership including Sonia Gandhi and PM Manmohan Singh were monitoring rescue and relief operations.
 "It should not matter who has gone and who has not. The focus should be on rescue and relief operations. Both the Prime Minister and Soniaji are monitoring the situation", Babbar said.
Babbar said :"VIP visits hamper relief operations. Rahulji has not visited Uttarakhand keeping this in mind. He will visit as soon as the situation improves".
On Saturday, Babbar was asked about the presence of Gujarat chief minister Narendra Modi in Uttarakhand. His reply was: "Some political parties are playing a game of oneupmanship. In our party, it is very clear who will do what. The Congress president is herself monitoring. And, as far as the visit of a chief minister (read Modi) is concerned, chief ministers of our party are also going there, have gone there and are busy in relief work."
Babbar also taunted the Rs 2 crore donation given by Modi's government. He reminded of larger contribution made by other state governments.
"This is a place which has all the four dhams (sacred places of Hindus), where such a huge tragedy has happened. Who is the one who only takes the name of god? When they are giving money, they have to look at their conscience. Religion is crutches for them," Babbar said.
He pointed out that SP-ruled Uttar Pradesh had given Rs 25 crore while Congress-ruled Haryana and Delhi and Congress-NCP ruled Maharashtra gave Rs 10 crore each for the flood victims.