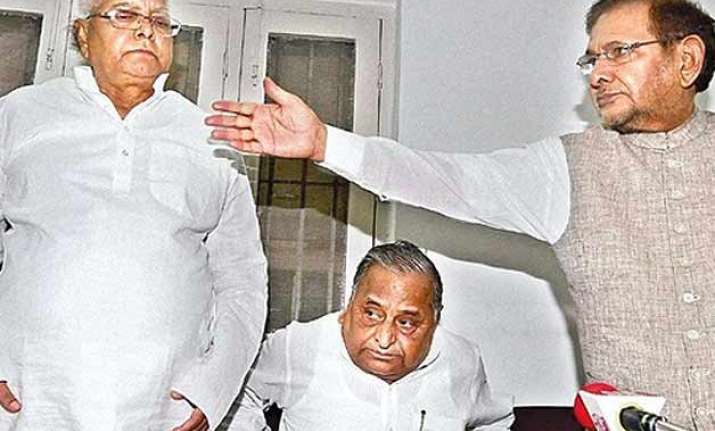 Patna: The Samajwadi Party (SP) has decided to participate in a rally of the so-called "secular alliance" in Patna on Sunday but its chief Mulayam Singh Yadav would not attend it.
       
After discussions between Mulayam Singh Yadav and RJD chief Lalu Prasad, it was decided on Saturday that Samajwadi Party would take part in rally.
       
Mulayam, however, would not be there and instead would send his brother Shivpal Singh Yadav to the rally, which will be attended by Congress president Sonia Gandhi.
 
"We have received communication that Shivpal Singh Yadav and Kironmoy Nanda would represent SP in tomorrow's (Saturday's) rally," Bihar SP president Ramchandra Singh Yadav said.
        
He said the decision was taken after a telephonic conversation between SP chief and his RJD counterpart Lalu Prasad.
 
Bihar chief minister Nitish Kumar and Lalu Prasad will attend the programme being organised for coordination among workers of partner parties in the crucial Bihar elections slated for later next year.
        
With the announcement of participation of Shivpal Singh Yadav, who is minister in Akhilesh Yadav government in Uttar Pradesh, and Nanda, party secretary general, the suspense ended over participation of SP in the rally of the "secular alliance" at Gandhi maidan in the Bihar.
       
Earlier in the day, Lalu Prasad had announced that SP would contest five seats in the Bihar polls. "We have decided to give three seats earlier allotted to NCP and two from RJD quota to SP in the Bihar elections."
       
The NCP peeved at the offer of only three seats had shut doors on the grand secular alliance in Bihar polls. And the allotment of five seats did not charm the SP either which maintained the suspense over its participation in the rally throughout the day before announcing its decision late evening.
 
Ramchandra Singh Yadav had led an indefinite dharna after the party was denied any seat in the alliance on August 12, when it was decided that RJD and JD(U) will contest 100 seats each of total 243 Bihar assembly, and the Congress 40 seats and three seats were left for the NCP.