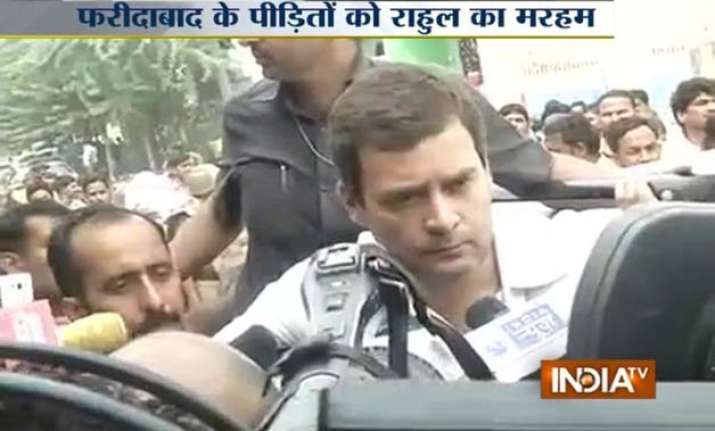 Faridabad: Congress vice president Rahul Gandhi today visited the family of two Dalit children who were burnt alive while they were asleep.
The Congress leader reached the home of the Dalit family in Sunped village and met the villagers and father of the two toddlers.
Speaking to media, Rahul said that the Haryana the government is not of the weaker and poorer sections.
"The father says his children were killed for no fault. Their only fault is that they are poor. The family wants a CBI probe. In Haryana the government is not of the weaker and poorer sections," he said.
"This is an attitude shared by the PM, the (Haryana) CM and BJP-RSS. If somebody is weak, they can be crushed. What you are seeing is the result of this attitude!" he added.
When one of the reporters asked him if his visit was a photo-opportunity, Rahul replied, "What do you mean it is a photo-opportunity? It is insulting when they say that. People are dying. I will come again and again."
On Tuesday, two children of a Dalit family were burnt alive and their parents suffered injuries after a mob set their house afire while they were sleeping.
Vaibhav, who was two-and-a-half years old, and his sister, 11-month-old Divya, died on the spot after getting trapped in the fire lit using petrol.
The Dalit children's parents had also suffered burn injuries in incident.
The incident led to tension in the area following which security was tightened.
Meanwhile, villagers today protested and blocked the Ballabgarh-Faridabad highway, demanding the arrest of accused.