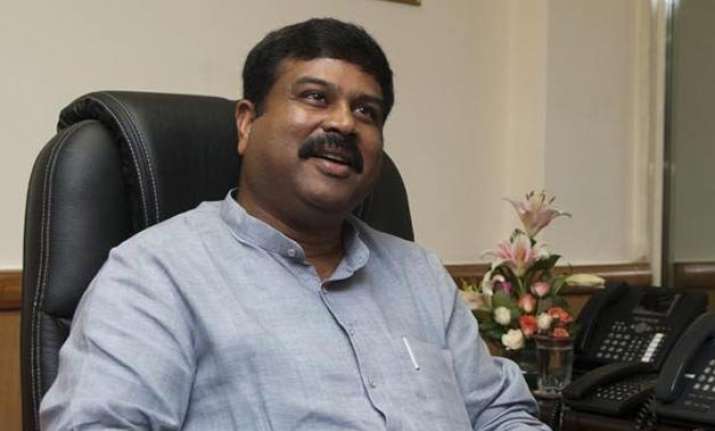 New Delhi:  A day after Rahul Gandhi promised a "kurta-pajama sarkar" that will work for common man, Oil Minister Dharmendra Pradhan today took a jibe at the Congress vice president asking him to first make his brother-in-law Robert Vadra wear one.
Pradhan used the occasion of 1st Convocation of Rae Bareli-based Rajiv Gandhi Institute of Petroleum Technology (RGIPT), to attack Gandhi saying the institute which was conceived by the previous UPA government on lines of IITs, does not even have a campus even after seven years of launch.
"You have ruined this country... this country cannot be run on slogans or symbolism," he said.
Without taking name of Rahul Gandhi, he said, "Here is an institute build by your government, in a village next to your constituency and named after your father but it speaks volumes about your commitment by the very fact that it does not yet have a campus."
RGIPT, which started in 2008 from a rented accommodation, offers bachelor and masters degrees in engineering besides MBA and PhD. But this year, MBA programme is not being offered.
"We are not the people who allege and run away. We are committed to non-partisian politics and I assure you that RGIPT will move into its own campus by next year," he said.
Attacking Congress, he said the party has "mislead" the country with slogans like "Garabi hatao."
"Grabhi toh hati nahi but desh ka paisa videsh zaroor chala gaya (poverty was not removed but country's wealth was transfered abroad)," he said.
Pradhan said the institute was to have a campus at Shiv Sagar in Assam, the home state of the then Prime Minister Manmohan Singh. "The seriousness of the Congress party can be imagined by the fact that I learn from RGIPT head Prof Jai Prakash Gupta that only 3-4 day visits have been made."
On Rahul Gandhi's comments in Amethi yesterday promising a "kurta-pajama sarkar" that will work for the common man, he said, "first he should make his jijaji (brother-in-law) wear kurta- pajama."