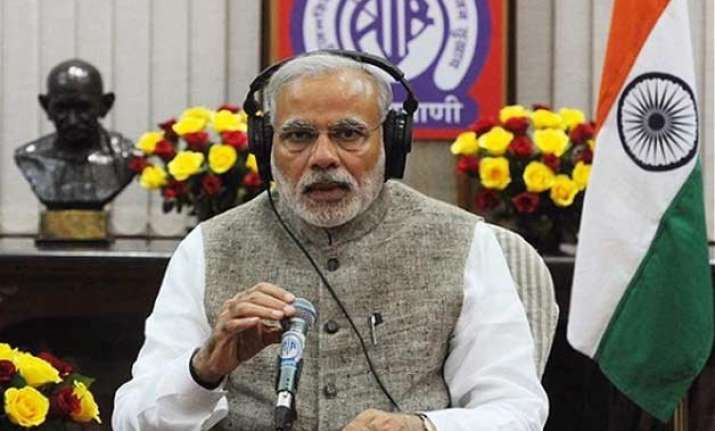 New Delhi: Prime Minister Narendra Modi on Sunday said that the Land Acquisition Bill is not against farmers and he was surprised by the rumours spread against the legislation by Opposition parties to gain political mileage.
"This Bill is aimed at welfare of farmers and villages. In the Act of 2013 there were certain lacunae. Our attempt is to address these lacunae to ensure that the law is beneficial for villagers, farmers, their future generations and to ensure they get electricity and water," Modi said while addressing the country's farmers in his monthly radio programme 'Mann Ki Baat'.
Modi said the Bill was 120-year old and has been in force for over 60 years since India gained independence. Therefore, it needed some amendments to benefit the farmers.
ALSO READ: Gadkari invites Anna, Sonia for open debate on Land Bill
"I said in Parliament also that even now if somebody feels that something is still lacking, we are ready to make improvements. Our commitment is to ensure benefits for farmers through the Land Acquisition Act..So many lies are being spread..It is my fervent appeal to farmers not to make decisions on the basis of these lies. Don't be misled," he said
The Prime Minister claimed that lies were being circulated about the Bill.
"We had supported the law in 2013 but then we realised some shortcomings. States have also been opposed to the law. Even Congress-ruled states didn't implement it. After seeing this we though the need to change this law," Modi said, adding that "The lies being spread are to prevent the progress of the nation."
ALSO READ: Land Bill passed in Lok Sabha with nine amendments
"You trust me, I will not betray your trust," Modi added.
He further said that social impact assessment would only delay land acquisition and increase red tape.
"We are not saying what the previous government's intentions were but we just want the farmer to benefit from the law," Modi said.
ALSO READ: Land Bill to face tough test in RS; Opposition adamant on blocking legislation
He said the amendments were being made in consultations with state governments and they were free to amend the law as they want.
He also said that the law wouldn't favour corporates in any way.
"It is a lie that you cannot go to the court's against any case of land acquisition," the Prime Minister  said.
"Those who make laws in air conditioned rooms often don't know the problems of farmers. A lie had been spread that the consent clause had been waived and said that there was no question of it. I appeal to all my farmer brothers to not listen to such lies," he added.
Modi said that it would also be stipulated in how much time projects for which land had been acquired needed to be completed.
He said the enactment of Land Acquisition law in 2013 during UPA tenure was done in a "hurried" manner and BJP, which was in opposition at that time, had supported it for the sake of farmers.
"If anything is done in a hurry, some lacunae remain. May be the intent was not wrong but lacunae are there which need to be corrected. I am not levelling any allegations against the previous government as to what it wanted or not wanted. Our intention is only to see that farmers benefit, their children benefit, villages benefit. So if there are any lacunae in the law, these must be addressed. This is our priority," the Prime Minister said.