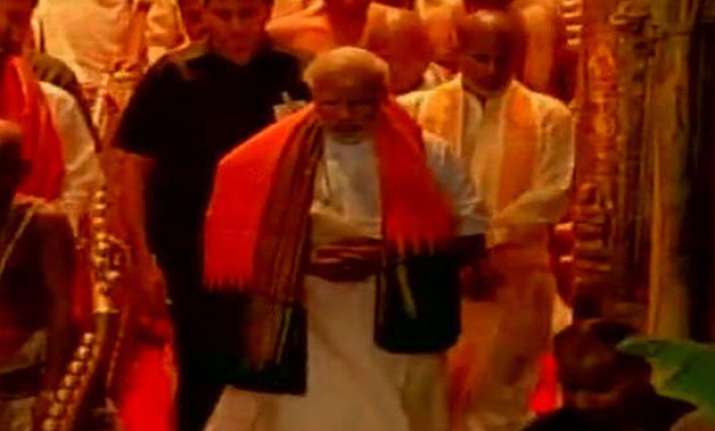 Tirupati: Prime Minister Narendra Modi today offered worship at the famous hill shrine of Lord Venkateswara at nearby Tirumala and invoked his blessings, expressing confidence that the country would remain peaceful and united.
On his maiden visit to the ancient temple after becoming Prime Minister, Modi flew in here late in the afternoon from Amaravati, where he laid the foundation stone for Andhra Pradesh's new capital.
He was accompanied to the temple by Andhra Pradesh Governor E S L Narasimhan, Chief Minister N Chandrababu Naidu, Union ministers, Ashok Gajapathi Raju M Venkiah Naidu and Nirmala Sitaraman.
Modi was accorded a traditional welcome amid chanting of Vedic hymns by the high priests, who conducted him to the sanctum sanctorum of the 2000-year old shrine.
The Prime Minister was in the temple for about 30 minutes, temple Chairman Chadalavada Krishnamurthy told PTI.
After offering worship, the Prime Minister was honoured with sacred silk cloth besides being offered 'Laddu' Prasadam, holy water in a tiny bottle and a Lord's framed photo.
The priests blessed Modi by way of reciting hymns at the sprawling Rangamandapam in the shrine as he remained seated on the floor alongside the Governor and Chandrababu Naidu.
Later, in a brief speech, the Prime Minister said he was honoured to be at the feet of Lord Balaji on the Vijaya Dasami Day and also the culmination of Navratri.
"I am privileged to get the blessings of Lord Balaji. I am confident that with his blessings the country will maintain its peace and unity and will be able to fight poverty," the Prime Minister said.
Modi had earlier visited the temple and offered prayers as the BJP Prime Ministerial candidate on May 1 last year.