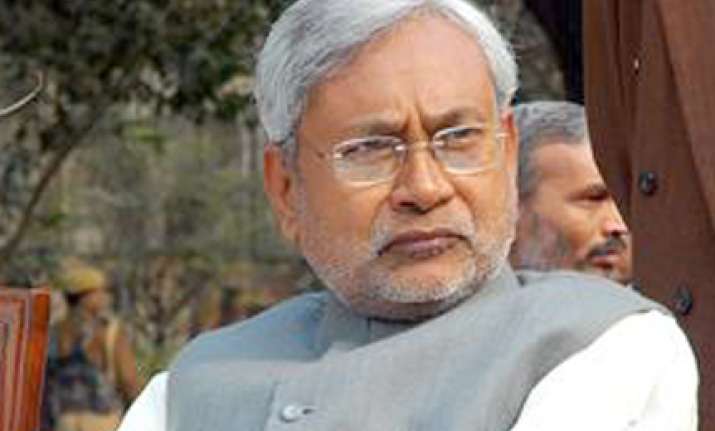 Charging the Centre for not taking appropriate measures to check prices, Bihar Chief minister Nitish Kumar today flayed RJD president Lalu Prasad for blaming his government for failing to curb prices of potatoes and other vegetables, pulses and milk. 
Kumar has taken exception to Prasad's statement that if RJD and LJP combine returned to power in the 2010 state assembly elections he (Prasad) would ensure that potatoes now selling at the rate Rs 22 per KG would be availabe to common people at Rs 2 per KG. 
He told reporters on the sidelines of his public interface 'janata darbar'here that the state government had decided to provide subsidy to farmers producing onions and potatoes at the rate of Rs 1,000 per acre. 
The chief minister asked Prasad, his betenoire, what steps he (Prasad) had initiated to improve the lot of the farmers producing the two essential vegetables during his 15 years of his 'misrule'. 
Kumar also charged the RJD president with trying to win back the forward caste votes (Rajputs, Bhumihars and Brahmins) by falsely stating that his government is out to usurp their land in the name of implementing land reforms. 
"The forward castes were solidly behind NDA and will give a befitting reply to RJD and other forces for spreading canards during the assembly elections," he said. 
Referring to the dismal power scenario in Bihar, Kumar said the state had inherited closed and non-performing thermal power units - Kanti and Barauni after the division of the state in November 2000. 
"Though we have initiated steps to improve the generating capacities of these two units and set up new thermal power stations, the Centre has adopted a delaying tactics by not providing coal linkages to upcoming power units," . 
He said under Rajiv Gandhi Rural Electrification Programme the villages were being provided with one phase line which was of no use to the farmers as they would not be able to irrigate their lands with such connenction. 
"I have instructed power engineers that the villages should be provided with three phase lines so that the rural people instead of being able to light up just one electric bulb can also irrigate their lands and make thorugh use of agricultural inputs." 
Kumar also flayed the Congress party for providing front row seat to RJD president Lalu Prasad in the Lok Sabha by sacrificing one of its own seats. PTI