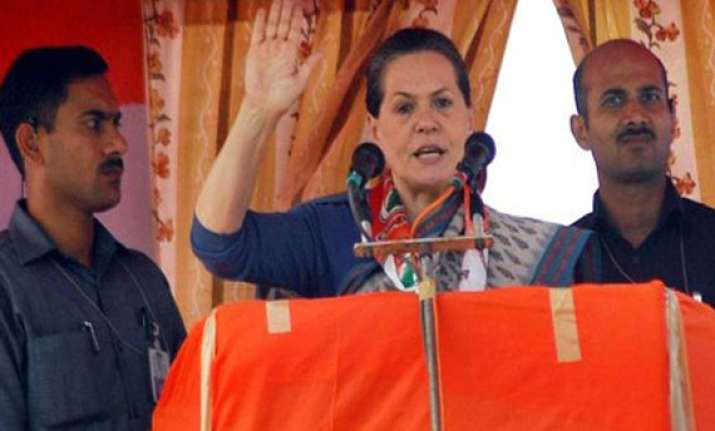 Gandhinagar, Dec 14: Breaking into Gujarati to ask people to vote for her party, Congress president Sonia Gandhi said Friday that the Narendra Modi led government was misleading people in the name of development and making false promises.
Campaigning for the second phase of Gujarat election to be held Dec 17, Gandhi blamed the state government for not utilising funds provided by the central government under various projects.
Addressing a rally in Kalol town of Gandhinagar district, she spoke briefly in Gujarati and said people should vote her party to power.
"The Gujarat government is misleading people in the name of development. Congress doesn't make empty promises like others and we will implement all that we promise if voted to power."
Asserting that the state government had failed to achieve overall development, Gandhi said: "Unemployment rate is high in the state and over 20 lakh people are homeless."
"Gujarat government has failed to take care of weaker sections. The state government is protecting the corrupt and punishing the innocent," she said.
The Congress chief said she would not let anyone play with the security and integrity of the nation.
The first phase of elections Thursday saw a high voter turnout of 68 percent.
The counting of votes will be held Dec 20.