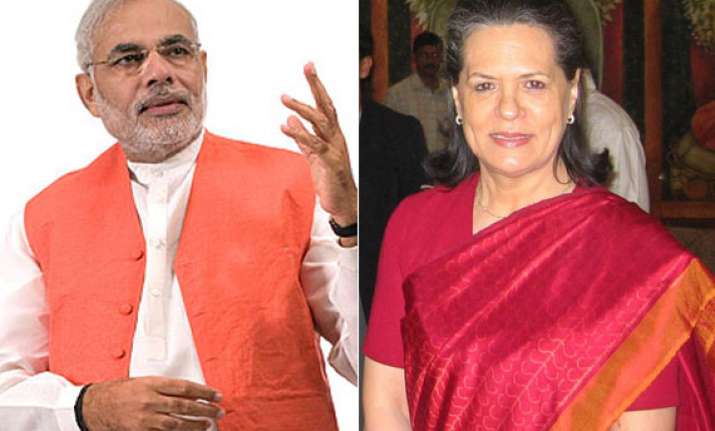 Kakoijan (Assam): BJP prime ministerial candidate Narendra Modi today fired a fresh salvo at Sonia Gandhi and Rahul Gandhi, saying the country cannot be run by "remote control" and the mother-son duo will have to pay a "price" for running the UPA government from behind the scene.
"If you want to save the country, you have to first save yourself from the mother-son duo," he told a poll rally at Kakoijan in Assam's Baongaigaon district.  "The country cannot be run by remote control by the mother-son duo," he said.
Modi said the electorate in 232 of the 543 Lok Sabha seats, where voting has already been completed, has voted against the UPA government.
"It is now the responsibility of the voters to ensure that BJP wins 300 seats so that a strong and stable government can be formed at the Centre," he said.
The BJP prime Ministerial candidate appealed to youths to think "very carefully" before voting. "If you take a wrong decision regarding your vote, you may lose the next five years which will affect the future course of your life. Give me a chance and I will change your life.
"The Congress has failed to give employment to youths as promised in their manifestos in the past. It has broken its promise to you and now it is your turn to break ties with it. First you have to save yourself from those who have ruined you and then help in saving the country," he added.
Taking potshots at Sonia and Rahul over the claims made in a book by the Prime Minister's former aide, he said, "It is clear (in the book) who was the actual PM. What Manmohan Singh says does not matter. Both mother and son have to pay a price for this," he said.
"The book 'The Accidental Prime Minister' by Sanjaya Baru has brought to fore what we (BJP) have been saying for so long - that mother and son were the primary decision makers and Manmohan Singh was just a facade," he said. Modi also took a jibe at the Prime Minister. "Today, I came across a very entertaining piece of news. The PMO has said that the Prime Minister had delivered over 1100 speeches during the ten years of his rule. This is just to prove that he is not 'Maun (silent) Mohan Singh'.