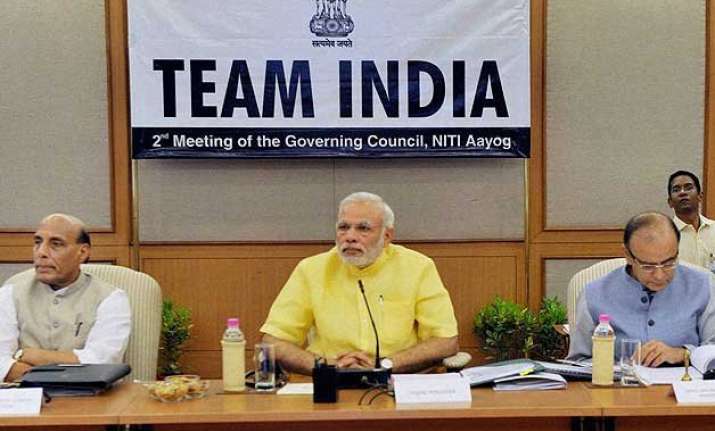 New Delhi: Union Finance Minister Arun Jaitley today said that Prime Minister Narendra Modi is in favour of considering the  concern of states on land bill amendment.
Jaitley was addressing media persons after the NITI Aayog meet which was attended by 16 Chief Ministers. The meeting was called to discuss amendment to the land acquisition act.
"PM's concluding thought was that concerns of states will be kept in mind," Arun Jaitley said.
The meet was chaired by Prime Minister Narendra Modi.
Jaitley said that many CMs expressed their concern over delay in land acquisitions slowing down different projects.
"Land is needed for development, there were no two views about that. Many states are of the opinion there is an urgent need for amending the existing land acquisition act as the delay in implementing land acquisitions has slowed down many projects," Jaitley said.
Jaitley conceded that the general mood was in favour of evolving a consensus on the land acquisition bill.
"The general thought was that Centre should try and get a consensus on this.But the CMs added that they cannot at the same time wait indefinitely for a consensus," Jaitley added.
Interestingly, Jaitley said that states should be allowed to develop their own land law if the efforts to build a consensus at national level fails to materialize.
"If Centre can't manage to get consensus then States should be given flexibility to develop their own law regarding land acquisitions," Jaitley said.
The meeting was also attended by Bihar Chief Minister Nitish Kumar and Delhi Chief Minister Arvind Kejriwal.
"While Nitish Kumar said that it was not the right time to amend the existing land bill, Arvind Kejriwal want the bill to be tried for some time," Jaitley said.
The meeting was boycotted by states ruled by Congress. UP Chief Minister Akhilesh Yadav and West Bengal Chief Minister Mamata Banerjee also did not attend the meet.
"Those who boycotted the meet, should introspect that not attending it is against the spirit of co-operative federalism" Jaitley added.