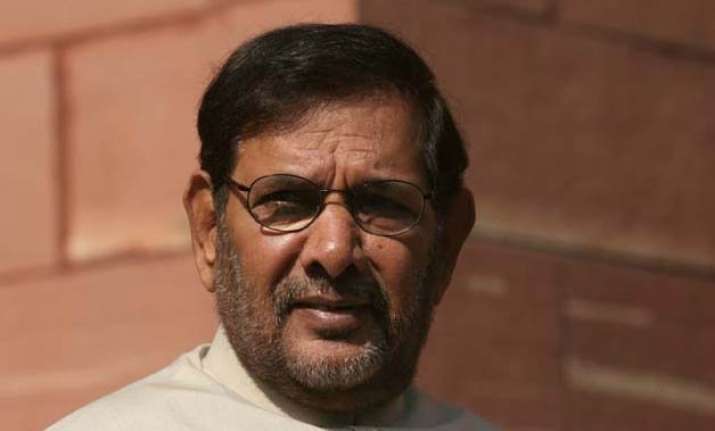 New Delhi: Janata Parivar offshoots will launch a joint agitation against the ordinances on land, coal and mines, which JD(U) President Sharad Yadav today alleged, are the Narendra Modi government's "gifts" to its industrialist backers in India and abroad.  
Samajwadi Party President Mulayam Singh Yadav will arrive in the national capital tomorrow to chalk out the strategy for joint protests, Sharad told reporters, adding, they were in talks with Trinamool Congress, which has also reacted sharply against the ordinance, and the Left parties over the issue.  
Former Bihar Chief Minister and JD(U) leader Nitish Kumar is also expected to be in Delhi tomorrow.  Condemning the BJP government for "not debating" in Parliament, the amendments it brought in the Land Acquisition Act, Sharad said, the new provisions have "removed all legal hurdles" for industries in acquiring land and mines, and are "worse" than the acquisition law brought in by the British in 1894.
"This government has destroyed the laws which were there to protect national assets and resources...The message to its backers here and abroad and multinationals is that please come as we have cleared the field for you," he alleged.  Supporting the strike by the Coal India Union, Sharad said, they would be talking to farmer and employee bodies to persuade them to join the protest.
He said it was bizarre that government brought in ordinances soon after Parliament session got over.  "If you are bringing such radical laws, you must discuss this in Parliament," he said.
He said the government seems to have made up its mind to rule like a "one-party dispensation" without giving any respect to the views of the opposition parties.  Asked about the proposed merger of RJD, JD(U), SP, JD(S) and INLD, he said things were "moving in the right direction" but declined to answer as to why it had not happened yet.  
Queried on recent statements of BJP MP Sakshi Maharaj that all Hindu women should produce four children and MIM leader Asaduddin Owaisi that all children are born Muslims, Sharad said, extremists on both sides provide fodder to each other and should not be given publicity.