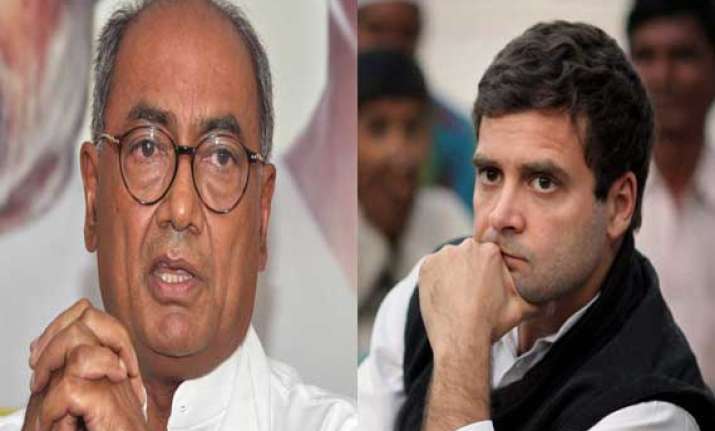 New Delhi: Congress general secretary Digvijay Singh today stood by his comments that Rahul Gandhi lacked the temperament of a ruler, a statement the party's rivals had used to say Rahul was not prime ministerial material.
He also said there would be "some critics" in the Congress but that "does not stop us from supporting him".  "I will never go back on my words. Why don't you give him the credit of winning elections in 2004 or give the credit to Sonia Gandhi and Rahul Gandhi when they won in 2009? Why do you want to play up only one thing," he told TV channels.  
"He is not hankering for power. He is a man who has his own vision who has his own ideology. He is a man who has his own ideology along with the Congress ideology and he strongly feels to fight for the downtrodden and the underprivileged," Singh said.
He was asked about his remarks, which were seen as a vote of no confidence in the Congress vice president.  Asked what Rahul has learnt in the past 10 years, he said the Congress vice president believes in democratic functioning of the party. He has set up the democratisation process of the Youth Congress and NSUY and "may be he would like to do to the parent Congress", he said.
Reacting to Singh's comments, BJP leader Shahnawaz Hussain said, "Digvijay Singh has said a correct thing (sic) that he (Rahul) is not Prime Minister material. He is talking about leader material. The country should know that he (Rahul) is not PM material."
Hussain said that although Jawaharlal Nehru, Indira Gandhi and Rajiv Gandhi had ruled the country, "now there is a new thinking in this (Nehru-Gandhi) family that they should discharge the role of a ruler without taking responsibility".  Meanwhile, Singh sought to take a dig at BJP veteran L K Advani over his criticism of Congress over a remark by party leader A K Antony.
"Let Advaniji please first explain whether does he feel Jinnah was a communal person or not a communal person...  Advani has also called Jinnah a secular person." He said that Congress has been fighting against religious fundamentalists of all types.
Turning to the MPPEB exam scam in Madhya Pradesh, he squarely blamed the Chief Minister for the scandal to grow.  "The CM is totally responsible...he was fully aware of what was happening".