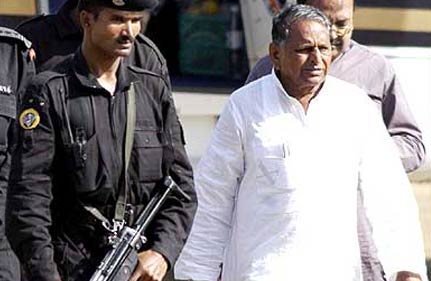 Lucknow, Nov 22: Samajwadi Party supremo Mulayam Singh Yadav turned 72 today with his party workers celebrating the day by taking a pledge to form the government in Uttar Pradesh in the 2012 Assembly polls.
"Cycle rallies and blood donation camps were organised and fruits were distributed at an orphanage by party workers as part of 'Sankalp Diwas' to mark the occasion," a party spokesman said.
Yadav was not present in the state as he was away in Delhi for the ongoing Parliament session.
In the Lok Sabha, Congress President Sonia Gandhi walked up to Yadav as soon as he arrived in the House and exchanged pleasantries, in a gesture that could have political implications.
Senior ministers Pranab Mukherjee, P Chidambaram and A K Antony and BJP leaders L K Advani, Murli Manohar Joshi and Jaswant Singh were also seen greeting the SP chief.
SP has 22 members in the Lok Sabha and extends outside support to the UPA government.
A photo exhibition titled 'Mulayam Singh Yadav ki sangharsh yatra' was organised here by the UP photo journalist association.
Meanwhile, expelled SP leader Amar Singh said in Azamgarh that he prayed for Yadav's long life and refuted reports that he had ever issued a statement seeking the SP chief's death.
"I had merely stated that my presence in politics is as essential as was the need for death of Mulayam Singh Yadav's politics," he clarified.
Amar Singh was expelled from SP earlier this year after he was branded "shameless" by the party leadership.
Even today, Singh took on Yadav, accusing him of adopting double standards. "Though he is opposed to computers, tractors and English, his sons Akhilesh and Prateek have studied and worked in Australia and London," he said.
Singh who plans to take out "Purvachal Swabhiman Yatra" from Allahabad to Gorakhpur on December 1, said he would welcome Yadav as an elder brother if he wishes to lead it for creation of a separate eastern state.
"I have written to Congress president Sonia Gandhi, BJP chief Nitin Gadkari and UP CM Mayawati seeking their support," he said. PTI