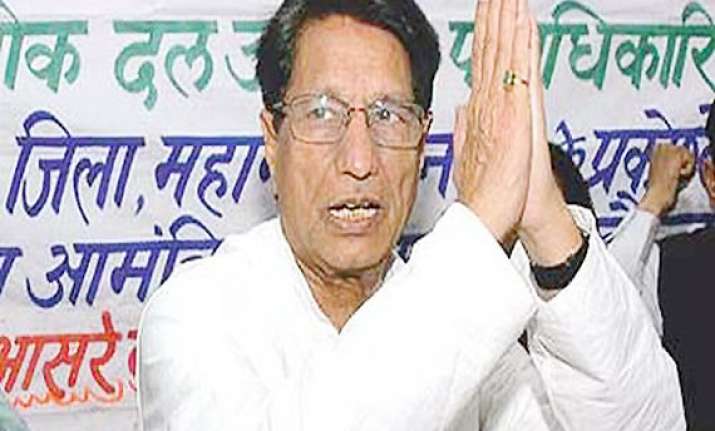 New Delhi, Nov 16: RLD Chief Ajit Singh today said talks were on with senior Congress leaders Rahul Gandhi and Digvijay Singh for a tie-up in Uttar Pradesh polls but there was "still no certainty".

Singh, who also welcomed Chief Minister Mayawati's proposal to divide the state into four parts, denied that he was pressing for Cabinet berths at the Centre as a pre-condition for a tie-up with Congress in UP. 

"Talks are on with the Congress. But this does not mean a tie-up is necessarily taking place. There is still no certainty. There are several issues like seat-sharing, campaign strategy and manifesto that need to be worked out," Singh said.

Refusing to divulge the issues which were preventing finalisation of a tie-up, Singh said most coalitions these days were formed a common minimum programme. 

Asked who all from the Congress were in touch with him, Singh said Digvijay Singh - who is in-charge of UP elections-was in constant touch with him.

"We are in touch and have been discussing these issues," Singh said.

Singh and Gandhi had a meeting two months back on the forthcoming elections in Uttar Pradesh but since then they have not met, the RLD Chief said.

The Jat leader from Western Uttar Pradesh denied that he was demanding cabinet berths in UPA government as a pre-condition for the tie-up in UP and said it was mere an allegation levelled in the media.

Ajit Singh welcomed Mayawati's announcement for dividing UP in four parts, saying though it was a political move as it had come just before the polls, this has been his demand for a long time.

Ajit Singh maintained that since Uttar Pradesh is a big state with the highest population in the country, there is a need to divide it as this would ensure better administration and government-people contact.

"UP has a population of 20 crore. It would be the fifth largest country in the world. No administrative unit is so big. Even in districts the government is further dividing responsibility of bureaucrats. In a big state it is not possible to have contact between the ruler and the ruled," he said.

RLD and Congress had moved separate resolutions on the same day in the present Assembly a couple of years ago to demand division of UP. However, he feels Mayawati has brought this proposal now for a political purpose. 

"Mayawati had said during the last Assembly elections (in 2007) that she was in favour of division of the state. Why did she wait for so long to bring the proposal? But we welcome the move and will vote in its favour when the resolution is brought in the Vidhan Sabha," Singh said.

The torchbearer of his father Chaudhary Charan Singh's legacy, the Jat leader feels the main issue in UP elections "is defeat of Mayawati due to her corrupt image".

"But there is no clear alternative available to the voters. There is no party which can come to power in UP on its own. A coalition is likely to be in a stronger position in this scenario," Singh said.

However, he ruled out an alliance with Mulayam Singh Yadav's Samajwadi Party. The two parties had parted ways before the last Assembly elections.